Top 20 overlander and travel gift ideas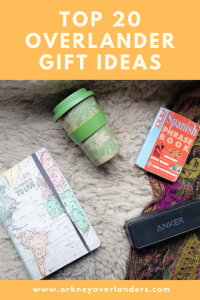 Are you struggling to find the perfect gift idea for that special adventurer in your life? Do they just shrug when you ask and tell you they're not fussed about getting anything? Might this be because they can't politely tell you that they don't have room for unnecessary clutter? If the answer is yes to any of these questions but you're still keen to get something nice you're in the right place!
Having spent the last ten years moving around, travelling frequently and often having nowhere to store 'stuff' (except for my mother's spare room – sorry mum), I've always tried to keep my possessions to a minimum. Living in a camper now is nondifferent.
We encourage people not to worry about presents but sometimes it's nice to swap something thoughtful with your favourite people.
Luckily nowadays most of our people have realised that edible gifts are a brilliant choice. However, there are some lovely travel-themed ideas that we've come across too – which are actually quite useful!
So here's a quick rundown of some of our favourite gift ideas!
Disclosure: This post contains affiliate links. This means we receive a commission if you decide to purchase through our links, at no extra cost to you. We will only recommend products that we use and trust.
General gift ideas
Notebooks – I love a good notebook. Whether you want to doodle, write a travel journal or conjure up 8-page sonnets about the pretty tree you spotted in the local plaza I don't think you can go too far wrong with this idea!

I received this Notebook as a present and absolutely love it!
Travel guides/ phrase books/ ebooks – There are great resources online but I've always loved pouring over travel books and flicking through phrasebooks. There's a book for every adventure whether it's a city trip or a year-long tour being planned.
Wall maps – I'm not a fan of the scratch-off ones as I think they're messy but a nice wall map is a perfect decorative feature. It's also pretty handy for recording your adventures or showing people on your travels where you're from!
Packing cubes – These aren't just for backpackers. I got some a few years back and still use them to keeps socks and such separate in my clothes cupboards in the truck as we don't have draws.

These cheap and cheerful packing cubes are perfect for keeping things organised!
Water bottle – a brilliant gift idea for everyone, not just travellers! You can generally find water pretty much everywhere and it's important to stay hydrated, especially when you're in warm countries. A sturdy long-life bottle isn't likely to burst in your bag and it's so much better for the budget. Plus you're helping the environment by not buying throwaway plastic bottles!

The company that make these great water bottles actually donate 25% of their profit to cleaning up the ocean!
Travel mug/thermos – Another idea that works for the masses! Whether you want to make yourself a cuppa in your camper to take exploring or stop off in a local coffee shop in a new town you're always going to need something to drink it out off! You get collapsible ones, metal ones, and plenty of size and style options to suit. Bonus points for helping save the planet.
Earplugs and eye mask – You might laugh now but I've always found these to be a real lifesaver travelling. Whether you are staying in hostels and trying to block out the 'community noise', parked up somewhere a little busier than you would like, or pitched up next to some noisy fellow campers a set of ear plugs and an eye mask will at least make things a little more peaceful.
Buff/snood thing – These are really handy for so many reasons. You can use them as neck gaiters, hairbands or even face masks! I have two that I interchange constantly and wouldn't be without them.
Large scarf/pashmina – Ok this one's mostly for the ladies but it's a great travel gift idea. They keep you warm, keep the sun off, cover your shoulders/legs if you're going into a religious building, or even just jazz up an outfit. With so many uses I don't know why you'd travel anywhere without one.
Off-grid camping
Water filter kit – This is a great idea for someone who likes spending time out in the wilds or areas with slightly less-potable drinking water. I had one for backpacking through South America and it definitely made me feel better about any dubious water!
Foldaway fire pit – We saw one of these first-hand thanks to our friends and fellow Overlanders The trucking Celts. We bought a lightweight mesh one a while back which was great. It's quick and easy to put together and pack away and doesn't leave messy burnt patches all over the place! We have since upgraded our fire pit to a bigger, sturdier one which we love.
Fold up bbq – This one's a bit of a luxury as you'll need space for charcoal too but some aren't much bigger than an A4-pad! But you can't beat a BBQ at the beach!
Jetboil – These might be more useful for the bike overlanders and backpackers but we've even used our one in the truck once or twice when we've ran out of gas or had to turn it off while waiting for a ferry. They pack up great, are lightweight and there's different types depending on your needs.

We have the Jetboil Flash which you can find on Amazon.
Travel hammock – another non-essential but it might just be the perfect gift idea for the adventurer in your life. They're great for parking up and camping by a lake or in the woods. I actually used mine to camp in a desert once! They're super comfy and they'll even help with making friends on a campground.
Technology
Bluetooth speaker – We got one last year and it's used constantly! Whether we're driving, watching something on our tablet or sitting out with a BBQ at the beach it's always on.

This Anker Portable Speaker is the one we bought – decent sound quality, amazing battery life and it didn't break the bank. (I think this is obvious but there's a time and place for this and 3am in the campsite isn't it).
Bluetooth headphones – Now this is a Stuart recommendation as I prefer a set of cable headphones (call me old-fashioned). Either way, a sturdy set of headphones is essential for life on the road. If you have a pair that doesn't get in a tangle then all the better!
Battery bank – I think if you have any other technology then a battery bank is very useful. A good one will charge your phone multiple times or a tablet and could really help you out! Even if you can charge up in your vehicle or on a campsite if you'd spent the whole day taking photos you might want to top up the charge without having to head back early.
Portable solar charger – A good alternative to the battery bank as long as you're not heading off to experience the long, dark nights of the Norwegian winter! If you're planning on staying off the beaten path, without mains power one of these will be especially useful.
Camera phone tripod – Now I know everyone's been all about selfie sticks in recent years but a tripod is a great option too. Whether you're trying to take impressive landscape shots or those classic group photos where someone always has to set the timer and run.
Universal adapter – It's not a very fancy looking gift but one that any adventurer would definitely thank you for! Why carry half a dozen different sockets for one trip when you can have one that covers the lot? It might not get as much use from an Overlander as it would from a backpacker but it will come in handy if you're wanting to take your device into a café or have the odd night in 'regular' accommodation.
If you're still stuck for gift ideas after all that honestly just ask them! I remember asking my mum the other year to chip in for ferry vouchers and, especially with living on a little island, that was the perfect gift at the time.
And anyway – it's the thought that counts!
To check out our other recent posts click here