We both came to nomadic life through quite different journeys. But once together we found our mutual love for travel and adventure led us to a slightly hair-brained idea. We decided to convert an old army truck into a campervan and travel around the world with it.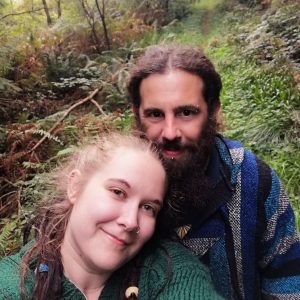 Charlotte
Originally from Derbyshire, England I moved quite a few times growing up. By 16 I'd lived in seven different houses and went to six different schools – one of them twice! I moved around four counties across different areas of England and Scotland and at 16 I set off by myself to start my own adventures, basing myself in Orkney, Scotland.
On my 17th birthday I went to work at an American summer camp and I've been travelling ever since.
From a tree-planting project in India to Au Pairing in some of Europe's most fashionable cities; and from working with wildlife in the Peruvian rainforest to hitchhiking through western Europe.
Whenever I'd saved up enough to get away, I would be gone. I would pick up whatever work I could and have ran a knitting business for years to help bring in extra travel funds. All the while I worked on my Environmental Science degree with the Open University and completed it in 2018.
Since then, I've not been able to disappear for too long as I got a conservation job in 2019 back in Orkney. It was a pretty normal life…except by then I was already living in a self-converted transit campervan.
While I had previously done a lot of backpacking I had always loved the idea of being able to travel to more out of the way places with more freedom and independence.
Hitchhiking and wild camping between volunteer placements was a great adventure but for me it wasn't sustainable long term. I had to keep coming back to the UK and a house to make money before continuing on.
In a camper I've found it so much easier to move around as I like. Now that we're on the road in Dinky it's even better.
Stuart
I was born and raised on a tiny archipelago off the north coast of Scotland, the Orkney Islands.
From a young age, I've always had a habit of pulling things apart to find out how they work or fix them and put them back together again. From a cassette player to a motorbike, nothing was safe if there were tools about.
Being from a small group of islands you have a few choices of what to do once you reach that stage in life where you enter the world of having to earn an income. You can try finding work on the island, go to the local college, or head off-island to work or study.
I chose to go to sea on a local trawler but once the fishing started to die off I had to try something else. It only made sense that I found myself working in a local garage and going to college. Since then I have taken on many roles and gained plenty of experience in various construction and mechanical skills.
I've always wanted to live a different way from the 'norm' and kept looking at buying an old boat to convert into a house however I had always been talked out of it. I also liked the idea of doing more travelling after getting to see different parts of the UK and Europe working in the marine industry. I wanted to have the ability to do it at my own pace though.
After doing some touring around with a motorbike and tent I decided that a van would be a great idea. My first van was a broken-down 2002 VW transporter which I quickly converted into a small campervan. I even made the rock-and-roll bed, copying the design from a photo I found online. It wasn't just a daily run around – it did trips away and went to festivals too – but the kids were starting to get too big and the van was getting past it, so it was time for a change. I found a LWB transit and converted it to sleep 5 which worked quite well. I ended up living in that van before buying the first truck-based motorhome with a built-in garage. This was the beginning of truck life.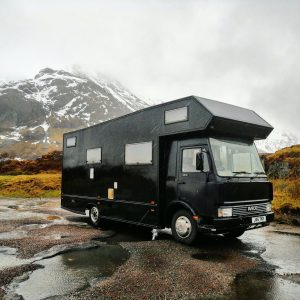 Together
Having been friends for a number of years already our campervan enthusiasm drew us together. By then Stuart had already picked up an old Iveco motorhome and eventually we both sold our self-converted vans to live in Tiny.
It was great having the extra space but neither of us really like the set-up of Tiny or most motorhomes. We wanted to redesign the interior, but that's easier said than done while living in it, so we made do.  
As time progressed and talk turned to travel, we both wanted to explore further afield. We knew Tiny wouldn't be up to the challenge, especially after getting stuck in a damp festival field one year. Something with diff-lock or even four-wheel drive would be much more suitable, and if we could design the inside – even better!  
We bought Dinky, an ex-military Leyland DAF, in March 2020 and began building in September once lockdown restrictions began easing. After completing the build we moved into Dinky in June 2021. We took a short trial trip around the UK and after looking at the numbers we decided to leave our jobs in December, setting off on the first stage of our new life. Nowadays we split our time between working half of the year and travelling through the winter – that's the plan anyway!
We hope to be able to travel all around the world – overland through Mongolia, Argentina and everywhere in between.
With this site we're hoping to share our overland experiences with the truck and the travel; and maybe inspire others to follow in our tyre tracks – or create your own!
To read our latest updates check out our Instagram or Facebook page.