Overlanding in Italy: Tips, Tricks & Hidden Gems for Your Next Adventure
Italy might not be the first place you think of when it comes to an overlanding adventure but it's certainly worth considering. We spent ten weeks overlanding in Italy over the winter of 2022-23 and we're so glad we gave it a chance.
Everybody knows Italy is filled with rich history, vibrant culture, plus some of the best food in the world, but it also has some stunning natural sites to explore. Italy isn't just home to the likes of the Alps and Mount Vesuvius. We spent a lot of time discovering quiet little corners of the country that we never expected to find and visiting places that most tourists have never heard of. Travelling overland through Italy provides you with the freedom to immerse yourself in the country's diverse regions, picturesque villages, and awe-inspiring countryside at your own pace. We visited so many different places in Italy and I'm excited to share some of our favourites. But first here's some important practical information if you want to take your overlander to Italy.
The Logistics of Overlanding in Italy
Italian Roads
Driving in Italy takes a bit of getting used to. We crossed the French-Italian border near the town of Sanremo and to call it chaotic would be an understatement! Everyone was trying to nudge their way through the traffic, quite literally sometimes. Scooters and motorbikes rule the road, popping up out of nowhere and squeezing between other vehicles. There's less pressure driving in the rural areas but the drivers don't hang about. We regularly spotted the locals driving on their phones, talking with their hands, and presumably driving with their knees! Surprisingly they seem to make it work. Just keep your eyes on the road and watch out for bikes, then you shouldn't have a problem.
How you're travelling through Italy will determine your road choice. Italy has an extensive toll road network with fast, smooth roads connecting all major destinations. However, if you plan on taking your time overlanding through Italy's countryside you will want to stick to the backroads. These national and local roads usually take longer and use a bit more fuel, but they are much more interesting!
You need to watch for vehicle restrictions in this country, especially if you're in a big overland truck. With size and weight restrictions it's important to plan ahead or prepare to change your route on the go. Many towns and villages seem to have 'local traffic zones' where only residents or permit holders are allowed to enter. Plus, there are some rather complicated 'clean air schemes' to navigate. A large portion of the north of Italy operates under a system where if pollution readings hit a certain figure for too many consecutive days major driving restrictions are imposed. This isn't a new thing and actually existed back when I lived in Milan in 2011! It can seem complicated but Urban Access Regulations is a great resource to check the places you want to visit.
Usually, we use Google Maps for navigation, but decided to use a satnav app for Italy as we knew our large overlanding truck might cause issues on some routes. We chose Copilot Truck which we got for £8.99 per month. We still checked the routes and restrictions against Google Maps Streetview and some restrictions are only seasonal or weather-dependent. It pays to double-check this – one time we saved ourselves a two-hour detour to avoid a road which had a 7.5tonne limit but only in the snow!
Speaking of snow, you will need to either fit snow tyres or carry chains on many Italian roads between November and April. For the list of roads, and more info on the winter driving regulations in Italy visit the Autostrade website.
Where to stay when overlanding in Italy?
Finding suitable park-ups for your overland vehicle is a little trickier in Italy than in some countries, but not impossible. It's still easier than in the UK so we're not complaining! There is a network of free campervan service and parking areas which (individually) are called "Area Sosta Camper". These vary between providing waste disposal and water or services and overnight parking. Some require a small fee in the more touristic areas but we always found free ones to use.
Alternatively, Italy has plenty of campsites and there is also the Agricamper program. For an annual subscription of £30 you get access to over 1000 farmstays in some beautiful parts of the country. We paid the subscription but never used it as we were never organised to book onto any of the locations. It does look like a good option though and will give you a chance to get to know the locals.
We mostly used Park4Night (as usual) for finding our park-ups. We actually got asked to move on twice from P4N spots, which hasn't happened before, but everyone was very friendly. Just be careful to check what day the market is on if you happen to be in some of the big village parking areas as you might end up waking up to them setting up stalls around you like we did in Ginosa!
Now the logistics have been covered let's get into the good stuff – what is there to see in Italy?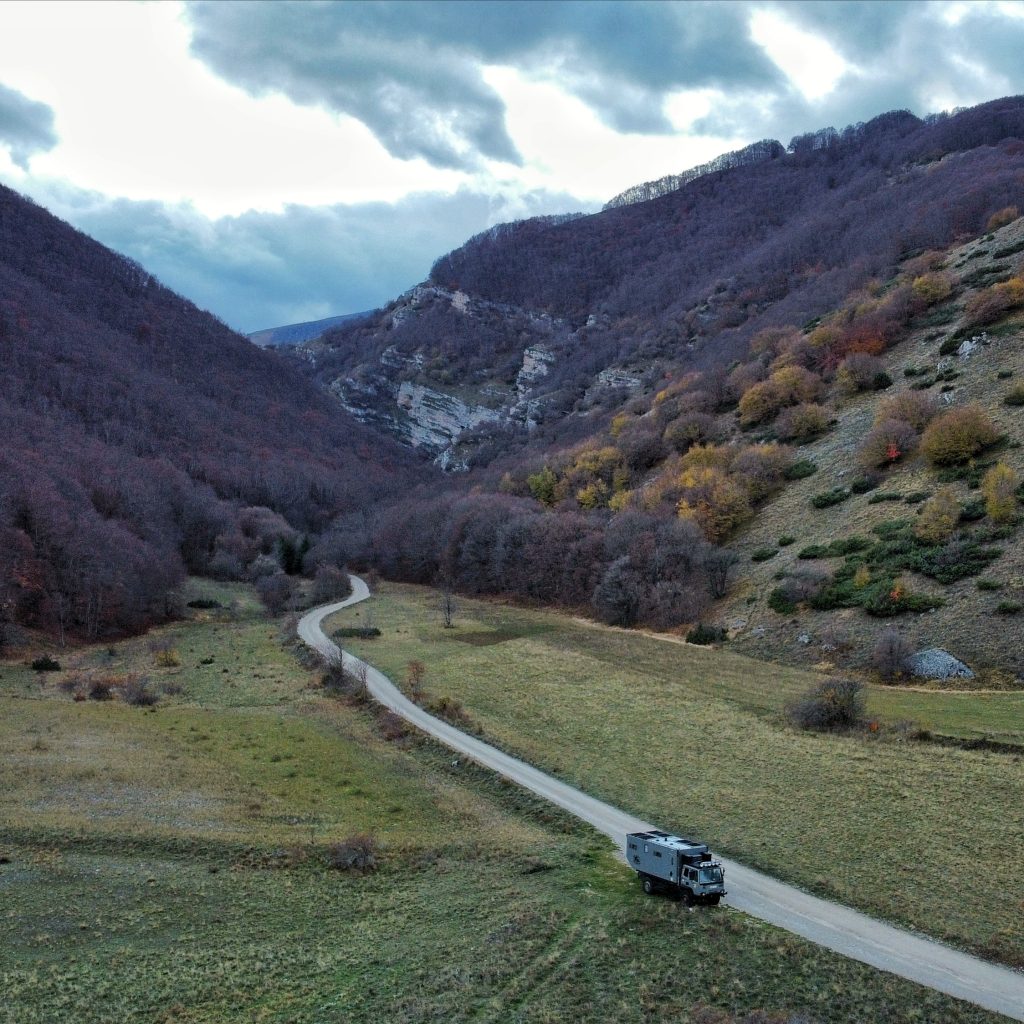 What to see when Overlanding in Italy?
Visiting Italy's Cities
When you think of overlanding you imagine parking up in the middle of nowhere, appreciating nature and enjoying being off the beaten track. That's mostly what we do when we go away, and Italy has plenty of opportunities to do just that. But, you might also want to check out what some of the nation's urban areas have to offer while you're there. You really can have your cake and eat it too, after all what is Italy without dessert? Now, I'm not saying you should drive into the centre of Rome for a truck selfie by the Colosseum, but most cities are pretty accessible without a vehicle. So, here are a couple of our favourite cities to visit and how to explore without your wheels.
Rome
I'll start by saying we did not take our overlanding truck into the capital of Italy – we're not completely mad! While I'd visited Rome before backpacking we decided we couldn't just drive passed without a trip into the city. I planned out a one-day whistle-stop tour that was cheap and a great introduction to Italy's capital.
We started on the west side of the city, taking the metro to our first point of interest: the Vatican. Vatican City is actually an independent country – the smallest in the world – and it's surrounded by Rome. Saint Peter's Square is an impressive site to visit, with its unusual shape, rows of columns and saintly statues. Saint Peter's Basilica takes the centre stage. It's the largest church in the world and the base of the Catholic Church. The museum's free to visit but with long queues, you may want to book a tour to save time. You can also visit the Sistine Chapel and the Vatican Museums but you have to buy tickets for these. We just checked out the exterior before moving on.
Next up was a quick look at the Castel Sant'Angelo, a mausoleum turned military fortress. This was followed by the Piazza Navona with its ornate marble fountains. There was an old gentleman singing by the Fountain of Neptune as we watched the locals and tourists bustling through the piazza or enjoying their morning coffee, the perfect stereotype.
From there it was on to the Pantheon. This temple is the best-preserved monument of ancient Rome. Its impressive design and ingenious construction are worth a look, especially as it's completely free to visit!
We stopped by the Trevi Fountain and the Spanish Steps before taking a wander passed the Roman Forum and the Colosseum. On this trip, we decided not to go in as we didn't fancy queuing or paying the entry fee. We were happy to wander around the outside of the sites instead, before catching a train back to our truck. 6 hours and 14 kilometres took us right around all the main sites of Rome. There was even time for lunch and a pastry break at the Roscioli Bakery near Piazza Vittorio Emanuele II. The pastries were amazing!
To visit Rome, we parked up in the town of Tivoli which was about 45 minutes away on the train. The camper parking is free (41.958522, 12.804179) close to the train station, and train tickets were only around €2-3! Trains go to either of the main train stations in Rome, Roma Termini or Roma Tiburtina. From there you can get the metro for €1,50 to the furthest away point like we did then make your way back to the train station, exploring the sites as you go.
Venice
As with Rome, I had visited Venice previously, once with school and while backpacking a few years ago. Stuart wasn't sure whether to bother but was interested in the construction methods on the islands, so we decided to check it out. It's best to visit in the winter as it's quieter. The exception is the run-up to, or during Carnivale in February when it will be really busy!
Venice is known as one of the most beautiful cities in the world; it's certainly one of the most recognisable. Its maze of canals and side streets makes it an intriguing city to explore. You never know if you'll turn a corner and discover a beautiful baroque church, or a quaint café courtyard.
There's so much to see in 'the floating city'. The main collection of islands are connected by hundreds of bridges including the Rialto bridge and the 'Ponte della Costituzione' – two of the most well-known, and interestingly the oldest and newest bridges across the Grand Canal. The most popular area is St Mark's Square, home to St Mark's Basilica and the Doge's Palace. There are also over a hundred other interesting churches, galleries, palaces, and museums! So, if you're short on time, buy tickets beforehand, plan a route, and wear your comfortable shoes.
Of course, if you'd rather explore the streets and get yourself lost amongst the passageways that can be just as fun! As you wander you'll come across loads of quirky-looking shops selling masquerade masks. Venice is home to Carnivale, a huge celebration with stunning masks and 17th Century costumes. There are parades and balls and the whole city turns into a sort of fairytale wonderland. Tourists are generally just spectators to this event but for a significant fee you could get tickets to a ball, hire a costume, or buy a mask and join in.
Taking a gondola ride along the canals is another authentic Venetian experience. It's a great way to see the canals but it's a little pricey and we decided it wasn't a necessary expense for our trip.
If you have time, you should try and visit some of the other islands. The colourful island of Burano is known for its brightly painted houses and its intricate lacework. Meanwhile, Murano is the home to a world-famous glassware industry, creating beautiful pieces using centuries-old techniques passed down through families there for generations. Both islands can be visited by water bus or taxi.
You might think Venice is an unlikely place to visit on an overlanding trip through Italy; not only is it a large city but it is also surrounded by boats and inaccessible to most vehicles. But with a bit of careful planning, it can be done and is worth checking out at least once.
We did manage to get the truck onto the main island collective of Venice and there is campervan parking available! Unfortunately, it was closed for construction when we arrived and we had to turn around and go back to the mainland.
We used the San Giuliano Camper Park in Mestre (45.467256, 12.279241) which was €18 for 24 hours. For us the best option was to arrive late, explore for the day and leave again in the evening. From there it was a 15 minute walk to the main road and 10 minutes on the bus to the bus terminal. Be sure to buy your ticket from the campsite reception as you cannot buy them on the bus or tram. There was also an option to get a water taxi from just outside the camper area, but the bus was cheaper unless you plan on using the waterways to explore Venice.
Matera
Many of you will probably have never heard of Matera but we recommend adding it to your Italian overlanding itinerary. The main streets don't look any different to most other Italian cities. However, if you follow the street signs for the old city – the Sassi area – you'll find something quite different. This ancient cave city has been inhabited for 7000 years! You can get a great view overlooking the whole cave district from Belvedere di Piazza Giovanni Pascoli. From there you can walk down a passageway and into the historic streets. While some of these old cave houses have been converted into quirky cafes and stylish hotels there are still plenty of original buildings and churches to check out.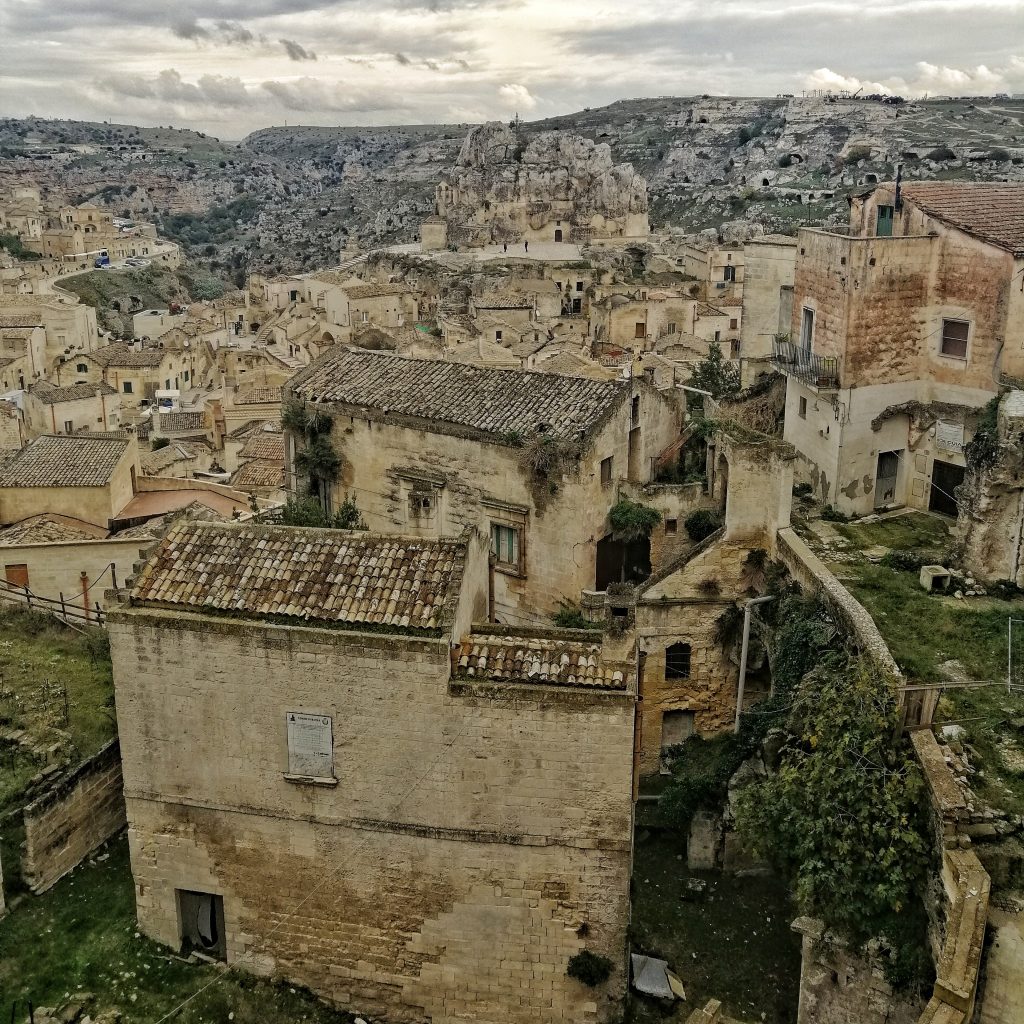 Santa Maria di Idris is the most distinct church in the old town, sitting up above the ancient streets. It's partially built above the ground and partially dug into the rock and is connected by a narrow passageway to the neighbouring San Giovanni.
If you want to visit a traditional cave house then Casa Grotta in Via Fiorentini has been preserved and set up as a sort of time capsule. It shows exactly how the house would have been lived in, right up until it was abandoned in the 1960's.
Crossing the Gravina canyon is to step even further back in time. Swap medieval-looking cave houses for prehistoric ones as you explore the Palaeolithic hollows carved into the cliff face, where villagers used to bunk down with their animals. It's quite a hike to get down into the ravine and up the other side but you can access it with your vehicle if you aren't up for the hike. Both sides of the ravine have been used as filming locations for movies ranging from Ben-Hur to the latest Bond film so if you're a bit of a film-buff then see if you can spot where your favourite scenes were shot!
To visit this memorable old city we parked up at the 'Parcheggio Via Carlo Levi' (40.660652, 16.600439). The park-up was free to use, although we didn't stay overnight. From there it's not too far to walk into town and explore.
Rural Italy
If you're visiting Italy overland you will probably be spending most of your time out in the countryside. Italy has lots of stunning scenery and so many beautiful regions to explore, from snowy mountain ranges to golden beaches. It's hard to pick favourites but here are some of our most memorable spots that we think you should visit.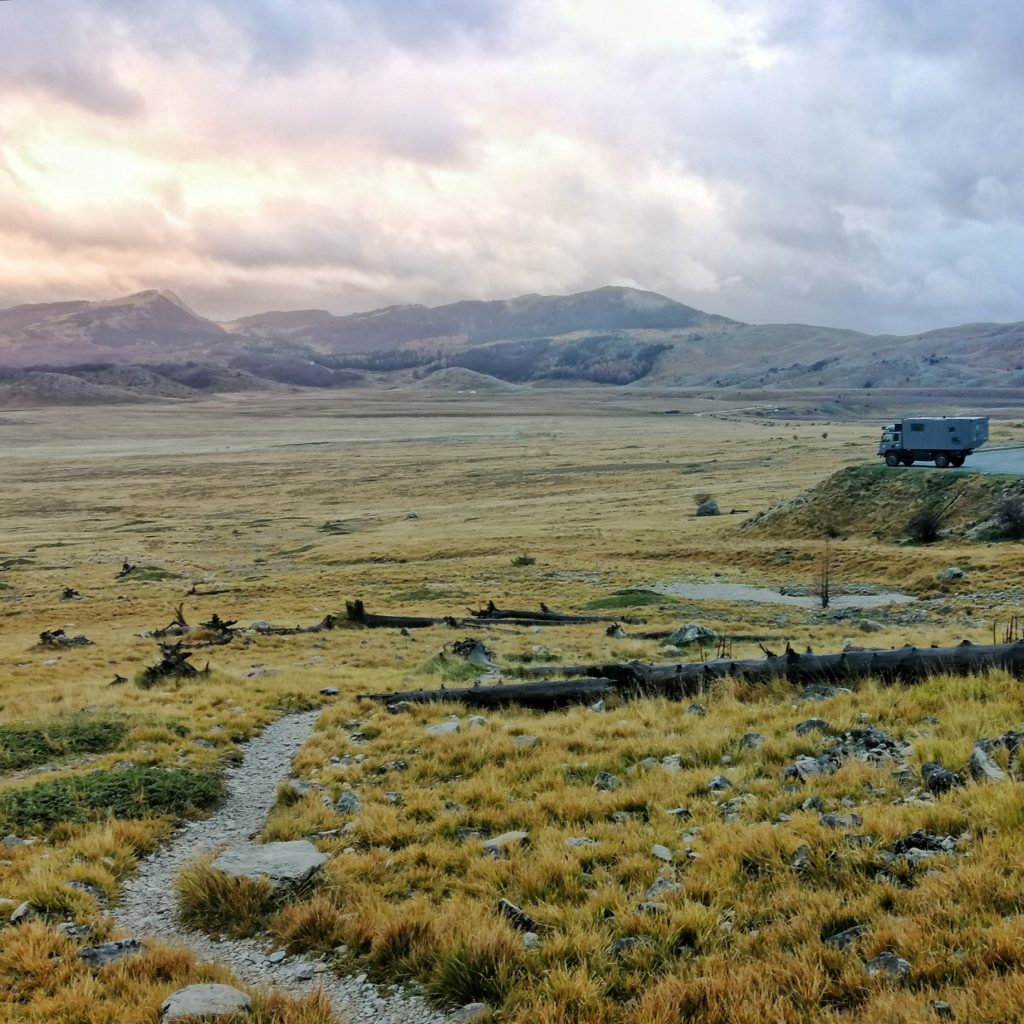 Gran Sasso and Monti della Laga National Park
I'm not sure Italy has any National Parks that aren't breathtakingly beautiful and this one seemed to be completely empty! We visited in the winter and expected there to be a few mountain-loving tourists and adventurers in the area, but we hardly saw anyone the whole time we were in the area!
This stunning park is one of 3 in this part of Italy and is spread between Abruzzo, Lazio, and Molise. The drive up to the park is picture-perfect. Quiet mountain roads wind up through ancient beech forests and eventually open up onto empty plateaus that stretch across to the foot of the Gran Sasso mountains. The park is teeming with wildlife with species ranging from the meadow viper to the Apennine chamois and the allusive Apennine wolf! Unfortunately, between the weather and time restrictions, we didn't get a chance to hang around and look for much wildlife. Just sitting in the landscape watching the weather roll through the valley was worth the drive up, and scrambling up the rough tracks in the rain made us feel a bit like we were back home in Scotland!
Before we headed down out of the park we took a drive towards the Osservatorio Astronomico d'Abruzzo, an observatory higher in the mountains with a paid campervan parking area, ski station, and church. We didn't make it all the way up as there was snow and ice on the road and we didn't fancy putting our snow chains on, but the drive itself was spectacular.
We overnighted at a quiet little carpark (42.424206, 13.743039), making sure – as always – to leave no trace.
Abruzzo, Lazio and Molise National Park
The Apennines are home to more than one stunning National Park. This one in particular was a real highlight for us and even though we ended up making a bit of a detour to get there it was 100% worth it. This park is home to plenty of wildlife, including both the Apennine wolf and one of the rarest species in the world, the Marsican brown bear. The small village of Pescasseroli is the starting point for several wildlife company excursions that can take you up into the mountains to look for these beautiful creatures and more of the local wildlife. We spotted red deer, lots of birds, and a sneaky grey fox that tricked me into thinking it was a wolf for a split second. We did hear the wolves on a night though, howling across the valley.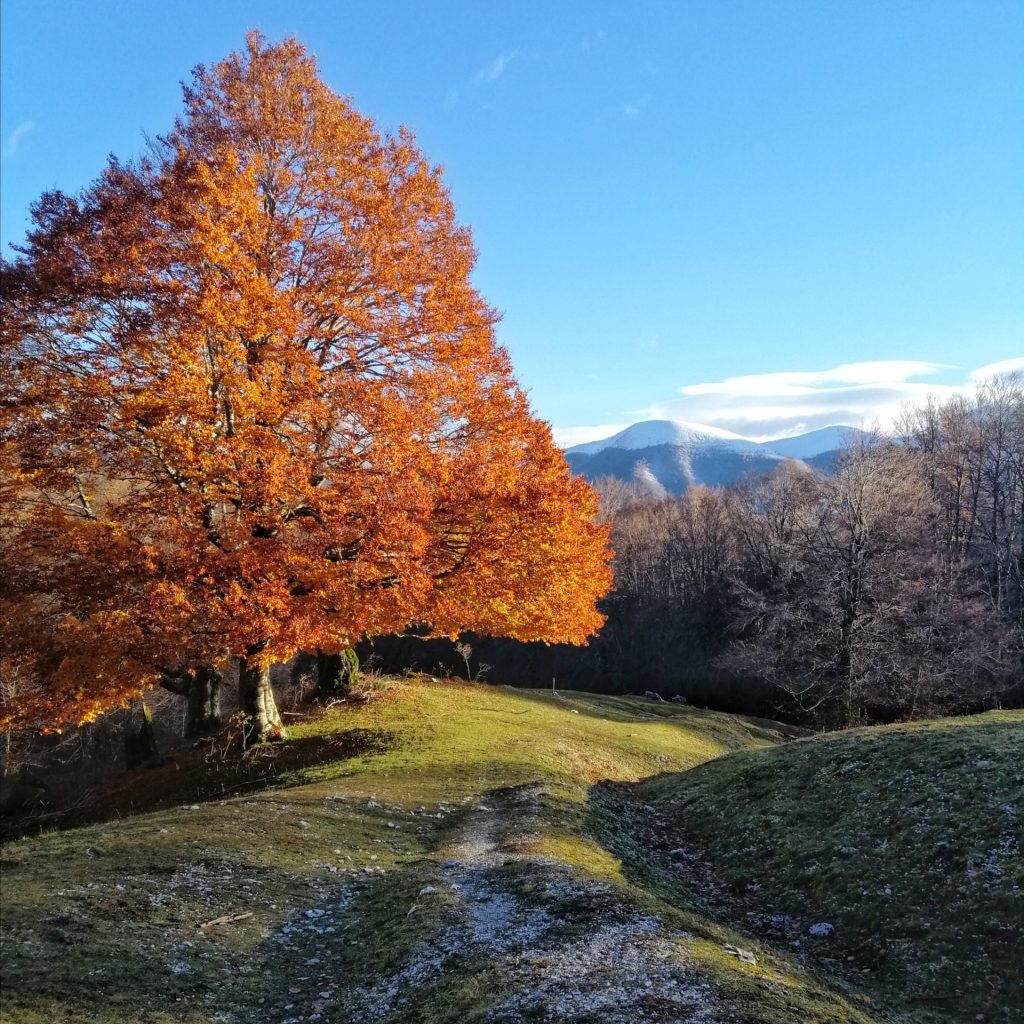 There are limited park-up options in Pescasseroli but Camping Sant'Andea (41.798872, 13.792137) is a good choice for €20 a night. You can also find wild park-ups in a few places if you're careful and considerate of the natural environment.
Dolomites UNESCO World Heritage Site
The Dolomite mountain range in Northern Italy is another beautiful region you need to check out on your overland adventures. From alpine meadows to craggy mountains, there's so much to explore and outside of the main tourist towns it's practically empty, especially if you avoid visiting in August! Whether you're interested in hiking, skiing, mountain biking or just admiring the views there's something for everyone.
The Lago di Braies is one of the most well-known places to visit across the whole of the Dolomites. This emerald-green lake with its quaint wooden boathouse, surrounded by snow-capped mountains is straight out of a fairytale. You can hire a boat to row around the lake or hike one of the trails. Visiting the lake is free but you pay for parking. Campervan overnight parking is an option (46.705760, 12.086941) for around €20, but the car parks get quite busy so it's best to get there really early or late in the evening.
We didn't have much time to explore this mountainous area but having once visited Val di Fassa on a school trip years ago I decided to show Stuart that area. The popular ski town of Moena is full of charming old houses and pretty streets. If you time it right you can see the surrounding mountains turn pink as the sun rises and sets. There are plenty of low-level walks, but you are also close to the Alpe Lusia–San Pellegrino ski area.
Despite having only spent a short time in the area there are so many places we still want to visit. I could go on about it for ages, however, I'm going to recommend going over to the Common Wanderer who has written a tonne of helpful guides covering the Dolomites.
Gargano National Park
So, we didn't have time to really visit this one, only skirting around the edge as we had to push on for the Albanian part of our trip. However, I'd recommend spending a bit of time checking out the Gargano National Park. It has just about everything you could want on your trip. With ancient forests, craggy mountains and a breathtaking coastline you could explore this part of Puglia for weeks and never get bored.
The pale cliffs are packed full of sea caves and ancient sea stacks stand proud out of the turquoise waters. As coast turns into marsh and forests into the Monte Gargano massif this is one of the most biodiverse regions in all of Italy. With a wide variety of birds plus snakes, wild boar, and loads of other wildlife this is a haven for anyone interested in exploring nature and getting out into the wild.
Coastal hubs such as Manfredonia, and historical sites like the 13th Century Sanctuary of Monte Sant'Angelo ensure there's also plenty for those who are less inclined to go exploring the great outdoors.
Towns
Alberobello
You might not have heard of Alberobello but you'll more than likely recognise it from the photos. This unique little town in Apulia is famous for its charming trulli houses, round stone homes with tiled conical rooves. These trullis are very common in this region of Italy, with thousands of them scattered across the countryside. Many are abandoned or used as animal sheds now but there are plenty that are still lived in.
Alberobello's trullis are all painted white and nestled in together creating winding little streets. Exploring here feels like you've stumbled into some fairytale maze, especially as we visited just before Christmas, so everyone had their twinkly lights lit up as the sun started to fade away. There is a great little viewpoint (40.783497, 17.238021) and lots of the trullis have turned into little shops selling gifts from trulli fridge magnets to handknitted lace shawls. Obviously, it's a bit of a tourist hub but in the winter it was relatively quiet and worth the detour.
There's loads of parking around Alberobello, but most is paid parking and I'm unsure which ones let you stay overnight. We opted for this free parking (40.788746, 17.245091) but left in the evening to find a quiet spot in the countryside.
Triora
Triora is a beautiful little spot that we might have missed if I hadn't randomly googled 'abandoned Italian towns'! The charming medieval village, nestled in the Ligurian hills, has a dark history, which it now seems to be cashing in on. In the 16th Century, this was the starting point for one of the most notable witch trials in European history! The poorest area at the edge of the village, where many of the accused lived, has long been abandoned but you can still walk through the empty streets. Stuart took the camera for a walk through the area one night and it was pretty spooky!
Instead of hiding or forgetting this dark history, the town has memorialised what happened. There is a museum of ethnography and witchcraft, and broomsticks and murals are dotted around the town. And if you visit the town at Halloween the place transforms into a witchy wonderland, with bonfires and music to celebrate and keep the bad spirits away! Regardless of when you visit the town it has a real atmosphere. Roaming around the tiny old streets, immersed in their history was a real highlight of our trip.
Triora is a fairly short drive from Sanremo however it's a twisty mountain road and larger trucks might struggle, especially if you meet traffic coming the other way. Once you get there though there's a nice free campervan parking area (43.994756, 7.759811) which even has toilets.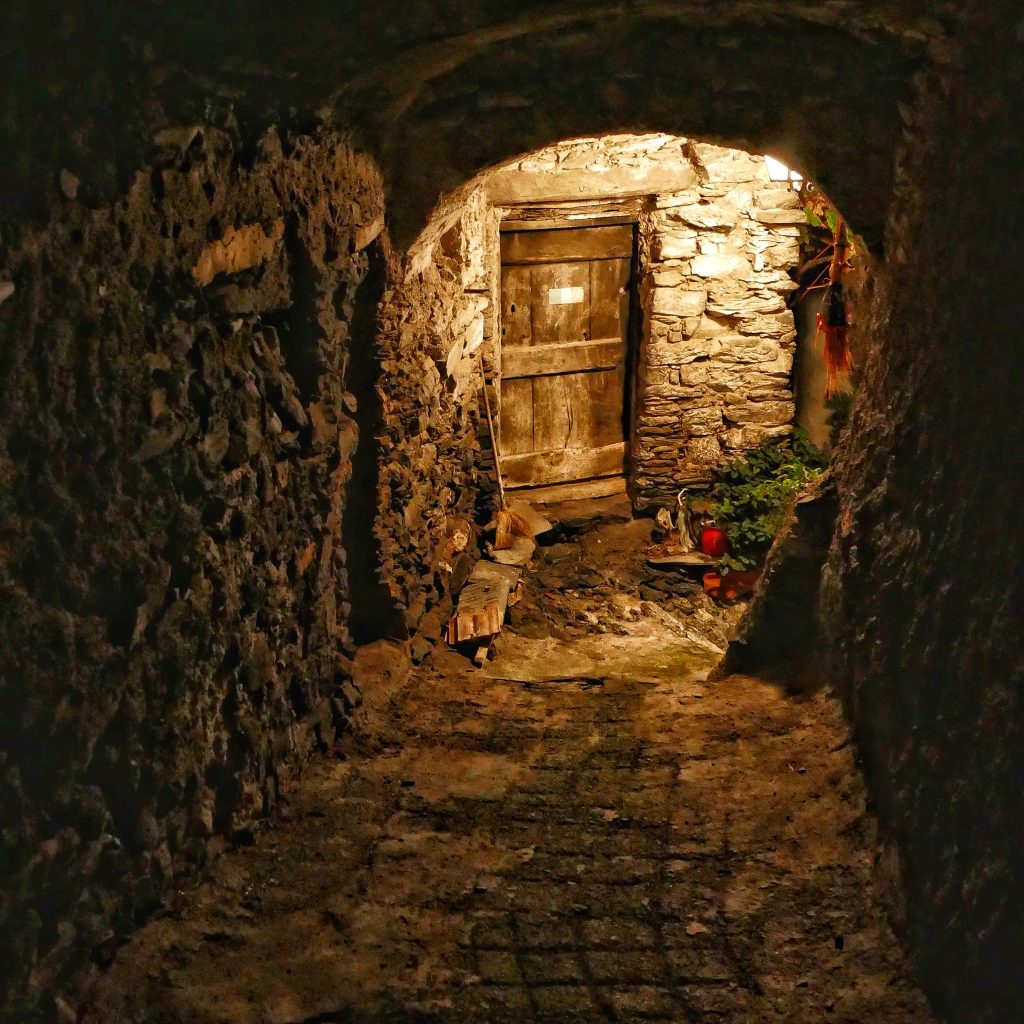 Barga
Barga is a funny little town in the Tuscan hills which we were recommended to visit by some friends. It's a typical medieval Italian town, with steep little streets and the imposing Barga Cathedral overlooking the whole valley. Now, the unusual thing about Barga is that it is known as "The most Scottish town in Italy". In the late 19th Century when Italians were emigrating around the world, many found their way to Scotland. Some remained, setting up ice cream shops or working on farms while others returned, bringing families with them.
Since then Barga has become a town with a sort of dual nationality. It celebrates Rabbie Burns and has a fish and chip festival every year. You can also have a drink and a chat with the Glaswegian-Italian owner of the local Celtic bar! Since we visited in the winter it was quiet but in the summer and during the September Scottish Week the place comes alive, with bagpipes, tartan, and highland dancing.
There is a campervan parking area (44.072762, 10.481729) just below the village. Oddly, it seemed to have been forgotten by the local council as the electricity and the pay machine didn't work. Luckily a local told us that it was still ok to use and we could stay for free.
Other sights to see while overlanding in Italy
Pompeii, Herculaneum and Vesuvius
Most of you will have heard of Pompeii, and the devastation caused by the eruption of Mount Vesuvius in 79AD. This ancient city was consumed by lava and ash and didn't see the light of day for almost 2 centuries! Archaeologists began excavating the area in the 1800s and they've been at it ever since. Parts of the city are almost completely intact, right down to the paintings on the walls. Other areas have been rebuilt, whilst a large portion of the city remains unexcavated. Pompeii is huge and would take more than one day to fully explore it, but you're best waiting until a winter weekday to avoid the crowds. It was relatively quiet when we visited in January.
We found a little side street to park on for free but we had such a nightmare trying to get our truck through the busy area with restrictions, traffic, and flooding I'd be tempted to pick a park-up or campsite somewhere else and use public transport if we were to visit again. There is also paid campervan parking at Pompeii itself.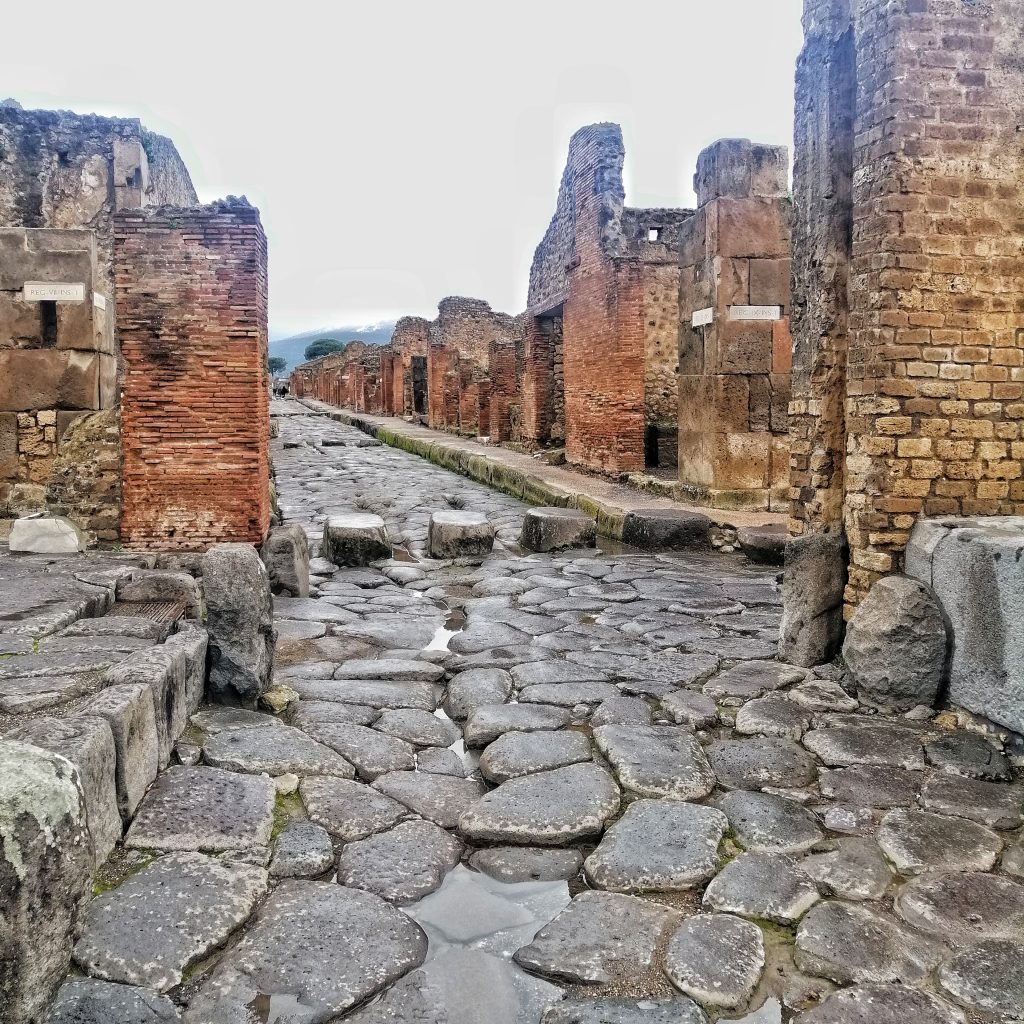 Herculaneum is only a short distance from Pompeii and suffered a similar fate to the well-known site. The layers of volcanic ash mixed with the environmental conditions meant that it was much better preserved than Pompeii. Most of the wooden structures and furniture were preserved too! Herculaneum is a relatively small site and is also quieter, making it a better choice for many looking to avoid the crowds, especially if you visit in the summer. Having visited both on different trips I think I could just as easily choose Herculaneum over Pompeii to visit again.
If you're travelling through this area you can't miss the imposing sight of Mount Vesuvius towering over the towns and coastline. Famous for destroying Pompeii, this volcano is still active. It's the only active volcano on the European mainland and it's overdue to erupt. Thankfully modern science makes it much easier to determine when she might blow. In the meantime, you can visit the volcano! It is possible to hike right to the top and look down into the crater, weather-dependent of course. There is some paid parking available part way up the volcano, and a ticket office, plus paid shuttle buses to get from the parking to the start of the hike but you might find it easier using a private bus or public transport to get back and forth.
Hot Springs
It might surprise you, but Italy is home to loads of hot springs! The naturally warm water from underground is collected in pools so you can bathe outside enjoying the warm, therapeutic waters. Some of these springs are private spas while others are open and free to enjoy.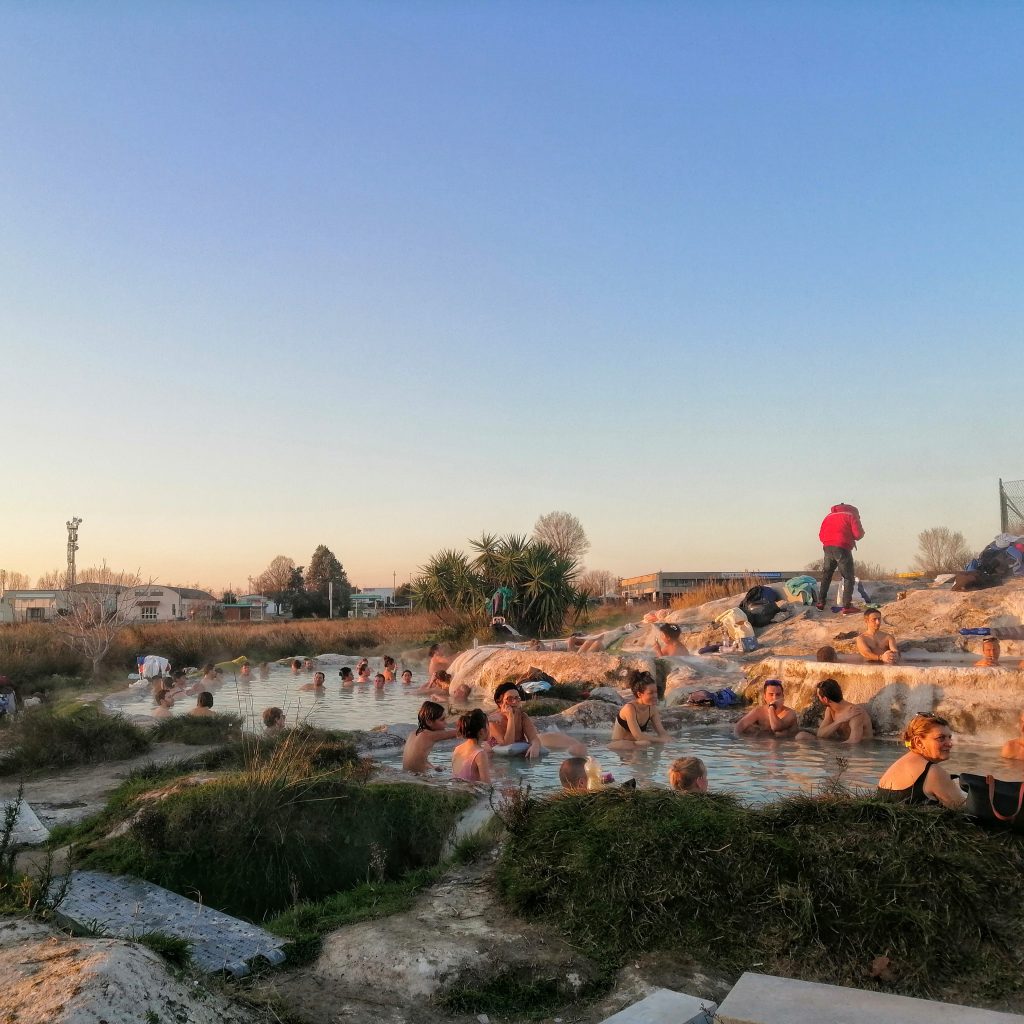 The most well-known one in Italy is the Saturnia Hot Springs. Free to visit all year round, the picturesque waterfall pouring down through the rock pools below an old water mill is popular with locals and tourists. The parking situation seems to vary but it's generally cheap and not far to walk. There are also facilities such as showers and lockers available.
Another popular free option is the Fosso Bianco (white whale) hot spring. These pools are a little trickier to get to. There is a 5-10 minute walk through the woods, and they don't have the facilities that the Saturnia springs have. However, nestled in amongst the trees, these white limestone pools look almost otherworldly. It's generally a bit quieter than Saturnia but there is also limited parking and they are technically closed at night.
We only visited one hot spring on our overland trip through Italy and it was a bit different to the two above. After our long day walking around Rome, we headed to the relatively unknown area of Viterbo. We found the Carletti thermal springs a couple of kilometres from the city. These springs aren't picture-perfect like the others. They're located on a flat bit of land on the city outskirts, right next-door to a military training area. However, they are warmer, quieter, and easy to get to. There is also a large free carpark (42.420934, 12.064812) only 100m away. It's the perfect place to relax after being on the road for a while.
Italy's coastline
While Italy is renowned for its stunning, rugged coastline and sandy beaches we didn't spend much time by the sea on our trip. However, if you're overlanding in Italy in the winter you have the perfect opportunity to explore without the crowds. Most decent beaches have private beach clubs (lidos) but the majority of these are closed through the winter giving you more opportunities to enjoy the Italian coastline without sun loungers and parasols getting in the way. The coastal 'hot spots' are pretty well covered elsewhere but here are some places you might not have heard of.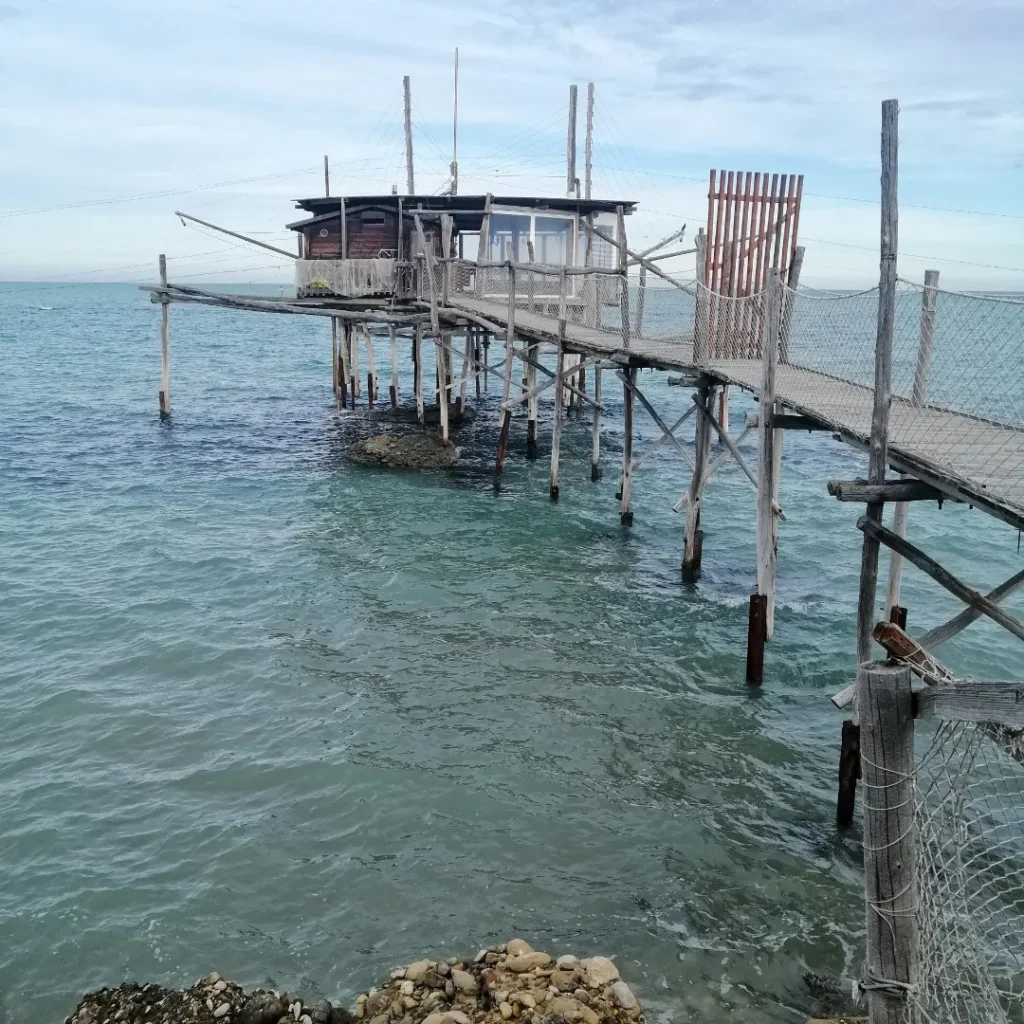 Caletta Toraiello in Puglia is just one of the pretty little beaches near the town of Otranto. These white sandy beaches, hidden behind protected pine forests are easy to miss unless you know they're there. Some are well catered to with facilities and beach clubs. Others like Caletta Toraiello have been left for those who prefer the basics – just sun, sea and sand – and most importantly no crowds. There are a few parking options set back from the beach. Most are paid but some are free outside of peak season.
One place we wanted to visit but decided against was Spiaggia Rocciosa and the Bagni Regina Giovanna. The remains of a Roman Villa are located next to a natural swimming pool on a stunning bit of coastline. The site is free and within walking distance of Sorrento on the Amalfi coast, one of the most beautiful areas of Italy.
Unfortunately, large campervans, including overland trucks like ours, aren't allowed on a lot of the Almafi Coast road, except between midnight and 7am. Instead of chancing it, or trying to find suitable park-ups in the middle of the night, we skipped it. One option would be to leave your camper somewhere like Salerno and use public transport or rent something smaller to get out there. I'd recommend that if you have the time. The road is one of the most stunning in Italy and worth checking out, even if you don't hang around to visit the sites.
Final thoughts
There is a lot more to Italy than pizza and the Colosseum and if you get the chance you should spend some time exploring this beautiful country. There is so much to see, and Italy is surprisingly suitable for overlanding. With so many stunning national parks and lots of open space away from the main cities you'll never be short of things to see or do. Get off the toll roads, get to know the people, and of course – eat as much pasta and gelato as possible. Overlanding in Italy might take a bit of planning but it is 100% worth it!
Are you thinking about visiting Italy on your next overland adventure? Let us know in the comments below!
We also visited Albania as part of this winter trip. To find out more about that part of our winter adventures check out our previous article here.