Overlanding in Albania
Overlanding in Albania is certainly an experience. This relatively undiscovered country is one of extremes. From the hustle and bustle of the port city of Durrёs or the capital Tirana, to the empty expansive hill country in the north, Albania has it all. One day we found ourselves shuffling through chaotic traffic with cars, people and animals moving around each other, weaving through junctions in a dance we had yet to learn. On other days we might only see an old shepherd tending his flock. We drove past swanky hotels with their flamboyant sculptures and water features, followed immediately by tiny derelict-looking huts, housing whole families and their livestock.
The landscape has its own extremes too. Snow-capped mountains are only a short drive from sandy beaches and crystal-clear waters. For a small country it has a lot packed in, and that's without mentioning its historic sites.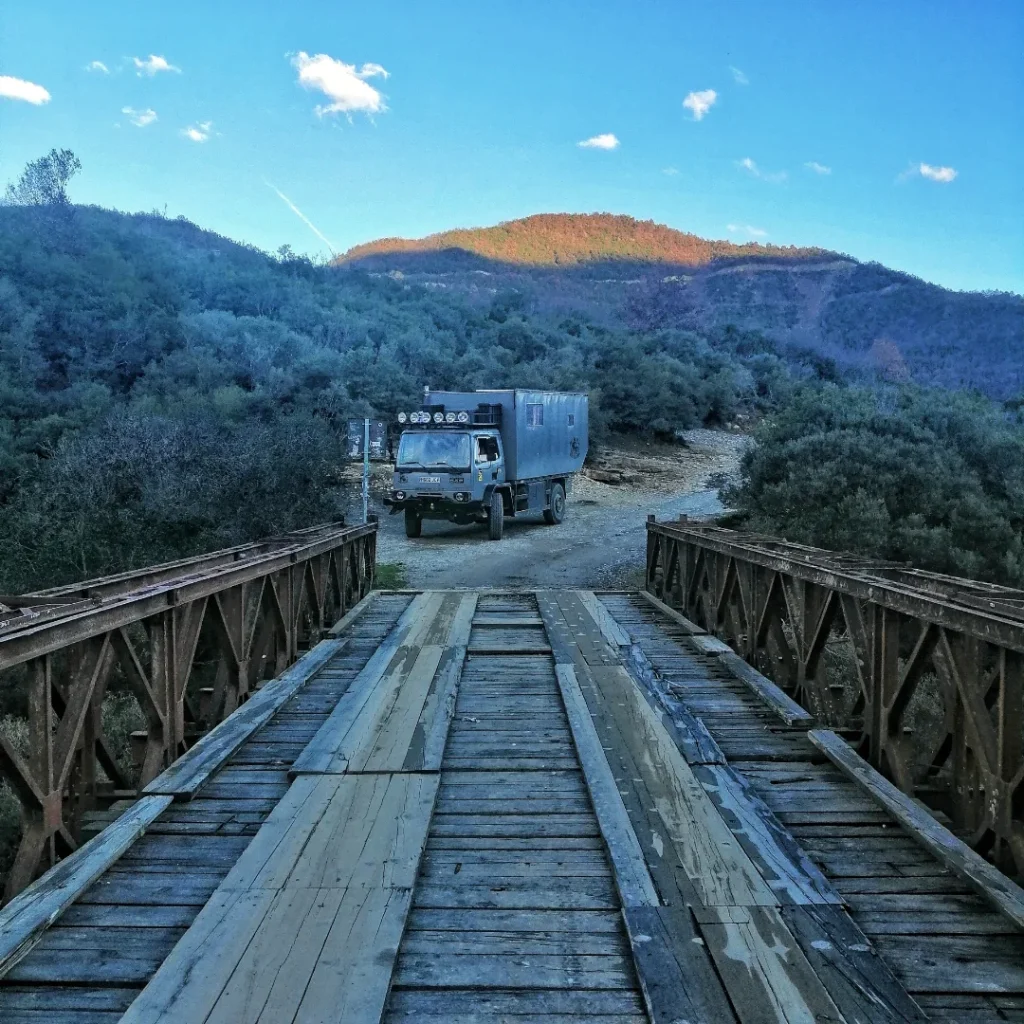 To be honest, we didn't have a huge desire to go to this country. Our initial reason for visiting and overlanding in Albania was purely a practical one. We knew we wanted to be away from the UK for 4-5 months. Unfortunately, as non-EU citizens we are now limited to only 90 days within the Schengen Area. We would have to do the 'Schengen shuffle'. Ducking out of the area for a time would prolong our travels without overstaying or trying to get a visa for Italy where we were focusing the rest of our trip. We had a couple of options including Croatia (before they joined the Schengen Area in January 2023) and Tunisia if we caught the ferry from Sicily. But eventually, we decided to try overlanding in Albania.
A few people told us we were daft to consider heading to Albania. They'd heard horror stories, knew of the country's difficult history, and were concerned that we might have trouble out there. But none of those people had ever been. Friends who had visited loved it, and after some research we booked our ferries and started planning our six-week detour.
Albania has a complicated history. For centuries the land was ruled over by invading empires and only became an independent country in the early 1900s. After decades of wars and invasions Albania emerged from World War 2 as an isolated and strictly-ruled communist state. It stayed that way right up until the 90's. Times were still hard for the population adjusting to this new way of life and even now you can see the shadows of leftover hardships the people have faced.
However, you can also see the changes this country is going through – evolving into a new modern nation. Infrastructure is being improved and I believe Albania is going to rapidly climb the leaderboard of places to explore over the next few years. Right now, Albania is a haven for off-roading and adventure travel. Overlanding in Albania is much easier than in many other European countries. There's still plenty of freedom and as long as you're sensible and respect the land and people you are welcome. It's much simpler trying to find rural park-ups than it is in Western Europe nowadays. Saying that – getting in and out of Albania can be a little confusing!
The Logistics
Taking the ferry from Italy to Albania and getting your insurance.
Most people we met in Albania had arrived via one of its numerous land borders. Overlanding through the Balkans and down into Albania is a popular route. Due to our time constraints we caught the ferry from Italy instead.
The process of getting the ferry from Italy to Albania and back again feels a bit messy but it just about makes sense once you work it out. We struggled to find much information on the process and this isn't an exact "how-to" guide but it's how it worked for us so hopefully you'll find it useful.
When you pull into the port area in Bari, Italy you will come to the first roundabout. Take the exit into the large parking area on the left. There will probably be a few lorries and cars waiting here already. Wait until the ticket offices for the ferry companies open (around 6 pm). Here you show your purchase confirmation printout to get your boarding cards. (We downloaded our printout onto a USB stick and printed it at a stationary store in Italy). We booked our ferries with GNV through Direct Ferries.
You will need to listen for the tannoy around 7 pm (or until everyone else starts moving) then drive along the port almost to the end. Here you should be directed to the correct booths. They might check the vehicle, but we only received a cursory glance as they checked our passports and vehicle registration document. From there you can go through to the loading area and onto the ferry.
If you can afford it you'd be best getting a cabin for the overnight crossing. We (ok, I) opted for roughing it with a couple of reclining seats instead because it was cheaper. Unfortunately, we didn't manage to get much sleep at all, making our first day in Albania a bit overwhelming.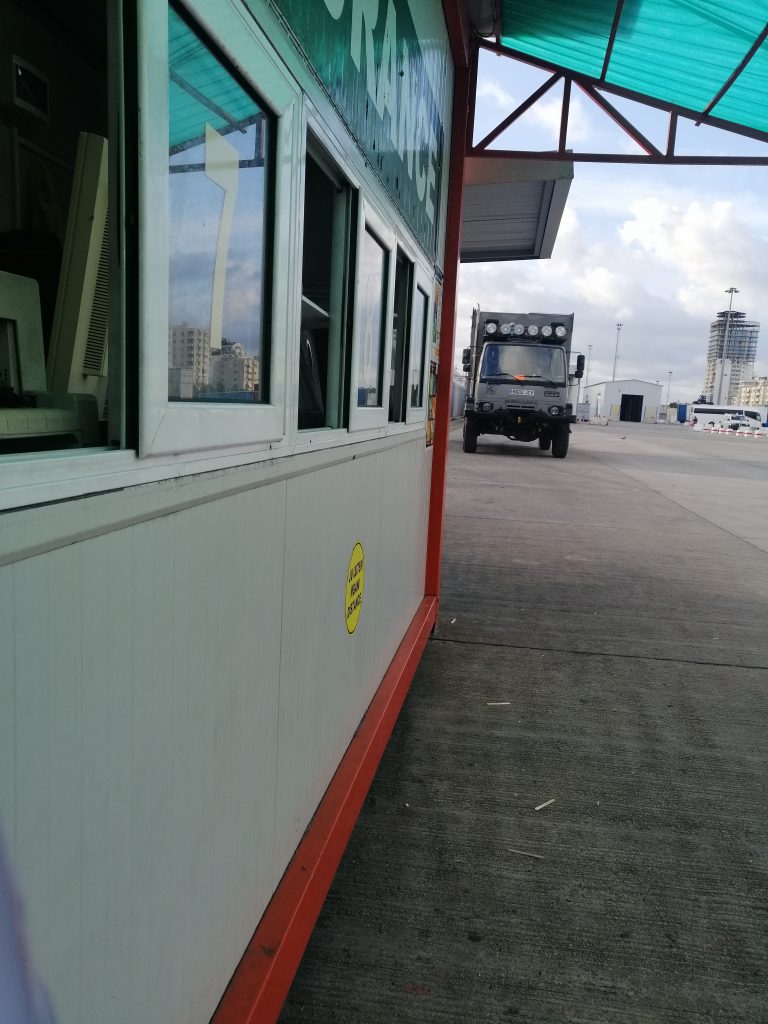 Arriving in Durrës you drive off the ferry and go through the usual arrivals process – passport and vehicle registration checks. From the booth turn right and before the exit gate there's a portacabin on the right. This is where you will likely need to buy vehicle insurance. Check with your own policy provider but most, including ours, don't cover Albania so we bought insurance on the border. We paid €201 to insure our truck for 45 days (we only needed 42 but it's sold in set increments).
As you leave the port beware of people on the road. There are a couple of folk that hang around the port begging and one wheeled his wheelchair right out in front of our truck!
Now you're ready to begin your adventure overlanding in Albania… once you get out of the city anyway!
Taking the ferry from Albania back to Italy.
Once you've finished overlanding in Albania you can go in pretty much any direction – South to Greece, East to Macedonia or Kosovo, North to Montenegro, or west on the ferry to Italy. Getting the ferry from Durrës to Bari was a little chaotic but you just need to trust the process.
Driving in you'll see lorry parking on the left. There's some free space at the entrance, but the main area has a ticketed barrier system that makes you pay. We didn't know this and drove in, and only didn't pay because a local appeared and pushed the barrier open! The booth to get your boarding card is the same as in Italy. The booth opens around 6 pm and you're allowed to start the rest of the boarding process from 7 pm. We were waved through the customs desk to the far end of the port and the police checking area.
I can't even guess how the procedure is officially supposed to work from this point. We were given a signed notice (in Albanian) about having our vehicle checked which had to be handed over to another officer. We were then taken in convoy, back to the beginning of the port to have our vehicle x-rayed. From there the officer took us and our papers back to the police area where the truck was looked over.
The inspector looked through the cupboards and asked loads of questions but decided a full inspection would take too long and let us go through to the next stage. We were guided through to a booth to have our passports and registration double-checked before eventually getting on the ferry and departing two hours after the scheduled time. The whole process seemed messy and we were concerned about getting lost in the crowd. However, the staff ensured we made it on the ferry and were all friendly and inquisitive about our time in their country.
Internet connection
Before we arrived in Albania we weren't 100% sure what we would be able to get once we arrived. Our EU roaming obviously does not cover Albania as a non EU country. To avoid the ridiculous roaming charges we bought a local sim card to put in an old phone to use as a hotspot. We decided to go with Vodafone as they had good 'tourist' deals and claimed to have the best coverage. And I think we can say that our network signal in Albania might have been better than anywhere else we've been – even better than back in the UK.
I visited the Vodafone shop on Durrёs high street and bought a sim card. The package was supposed to be 30gb for 21 days for 2000 lёke (approximately £15.30 or €17.40). For some reason I got charged about €25, seemingly for paying in euros and because you have to buy the sim card separately from the package. I was shattered from the overnight ferry, or I might have questioned it more but without internet we would have struggled to get out of the city. Luckily you can top up this sim card and we got our second 21 days for roughly €15.
Roads and maps when overlanding in Albania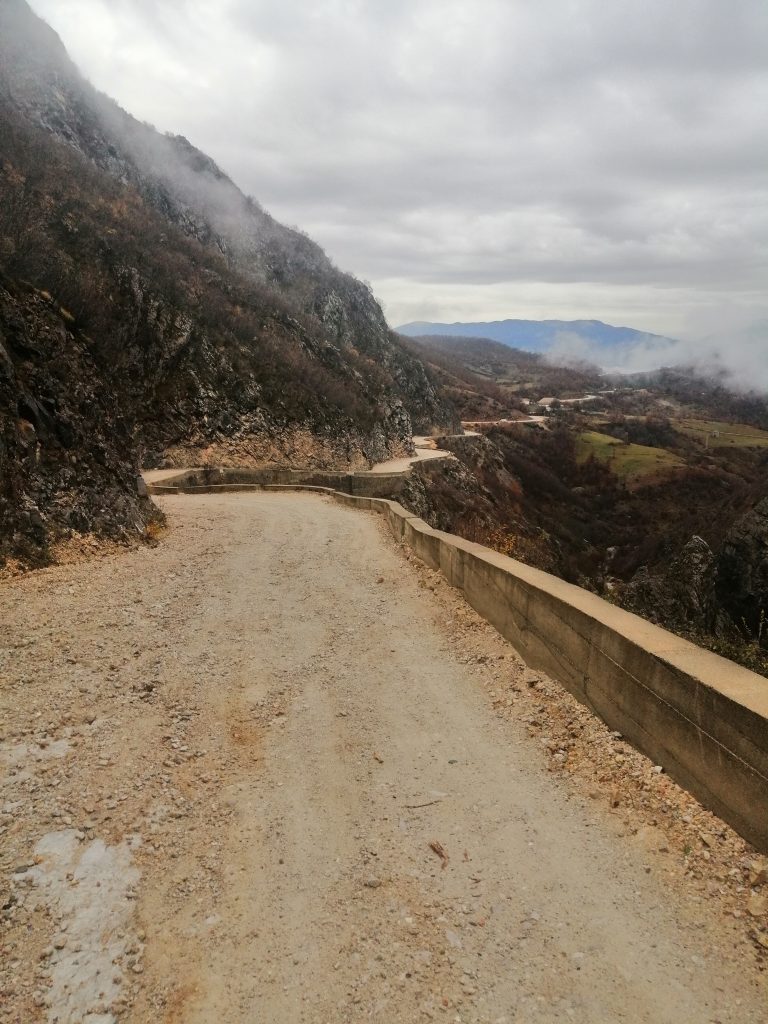 One thing to keep in mind while overlanding in Albania is the road conditions. As a nation that is working hard to improve its infrastructure, we found some beautiful, new smooth roads. Sometimes they appeared out of nowhere – one or two of them hadn't even made it onto Google Maps yet! On the other hand, some of the roads seemed to just disappear into nothing. In some rural areas the roads were just rough tracks, and in other places they just hadn't completed them yet. You were welcome to drive on beyond where the roadworkers had built, which we did more than once.
On one occasion we tried taking a country road from just south of Banja Lake to just south of Berat. We were trying to avoid taking the main road up and around the north of the lake. Instead we ended up having to turn around an hour in as the track became too narrow and muddy and we'd lost the daylight. Our truck might have four-wheel drive but we're just too big and heavy to chance it on some routes. Similarly, we opted to take the long way around to get from Osumi Canyon down to Pёrmet, backtracking to Berat. Just because the map identifies a route as a main road doesn't mean it will be passable. Sometimes you're best asking the locals but you can also get a rough idea from the map.
If you use google maps check how long it estimates for the journey. If it's suggesting an odd route with a long detour there's probably a good reason! You might be able to buy a paper map for your trip but they are effectively out of date from the moment they're printed – especially in a rapidly developing country like Albania. 
Sites to visit while overlanding in Albania.
With the logistics out of the way let's look at where to visit when overlanding in Albania. Finding out where to go in Albania takes a bit of research. There are no 'big name' sites that you will have heard of and with Greece as its next-door neighbour it can get a bit overshadowed. But there are some interesting sites to see and some stunning, 'undiscovered' landscapes to explore.
Historic sites
Butrint
The Butrint Archaeological Park near Sarandё was Albania's first UNESCO World Heritage Site. The park is filled with history, ranging from around the 10th Century BC until the 15th Century. You can spend hours exploring the ancient amphitheatre, Roman baths, and various other remains. The ancient ruins are surrounded by forest and nestled between Lake Butrint and the Ionian Sea. It's a hotspot for loads of birdlife and interesting plants and a peaceful place to explore.
While you're there you can take the small pontoon cable 'ferry' across the channel to visit the Venetian Triangle Castle. We chose not to bother paying to cross but enjoyed watching the pontoon crossing the water back and forth. Tickets to the park cost 1000 lёke (£7.90/€9) and there's a good-sized carpark right at the gate. It seems like you can stay overnight but the 'ferry' runs all night, and can be a bit noisy. Instead, we stayed about a kilometre back up the road (39.746577, 20.005462) at the panoramic parking. We enjoyed watching the beautiful sunset over the water and across to the Greek island of Corfu. From this park-up you can also walk out to the 'forgotten house' and look across to Ali Pasha's castle on one of the little islands opposite the house.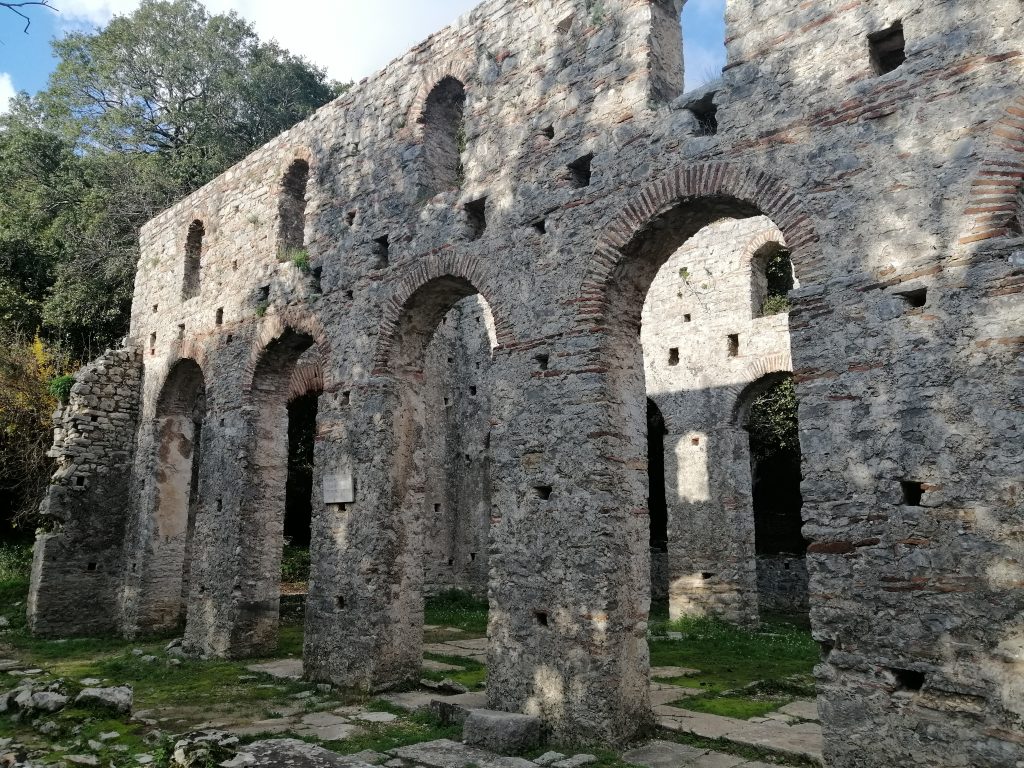 Apollonia
The ancient city of Apollonia is another of Albania's World Heritage sites! Apollonia is believed to have been founded in the 6th Century BC and evolved from a small Greek trading town to a Roman metropolis. After being destroyed in an earthquake in the 4th Century much of the city was lost to the swamps until being rediscovered in the 19th Century. The ruins are scattered throughout the park making it a pleasant place to explore without the excessive signage and restrictions found at more touristic archaeological sites. On site there's also a 13th Century monastery with an interesting little museum and Byzantine church within its grounds.
You can buy a ticket to the site for 600 lёke (about £4.70/€5.40). There is a large free carpark just below the ruined city where we stayed overnight (40.72147, 19.46989). There's also a lower carpark on the edge of the local village (40.723669, 19.465185).
There's also a little market in the village (40.728227, 19.468973) where you can pick up supplies and the lads who run it are very friendly, speak good English and seem to know their way around the UK in relation to football teams! The closest we could get to Orkney was Aberdeen but that's not bad going!
Bunkers
Ok, so this isn't a specific location but something to look out for during your time overlanding in Albania. During Albania's communist period the dictator Enver Hoxha built thousands of concrete bunkers across the country. You can still see many of these bunkers dotted across the country, in varying states of disrepair. We found some on the coast near Vlore that extended out under the Narta Lighthouse which could be explored. This particular set of bunkers, perched on the edge of the coast, were open and seemingly abandoned. The entrances had been painted to show various environmental scenes which was a nice touch. There's plenty of open space to overnight around there too (40.508792, 19.398096)!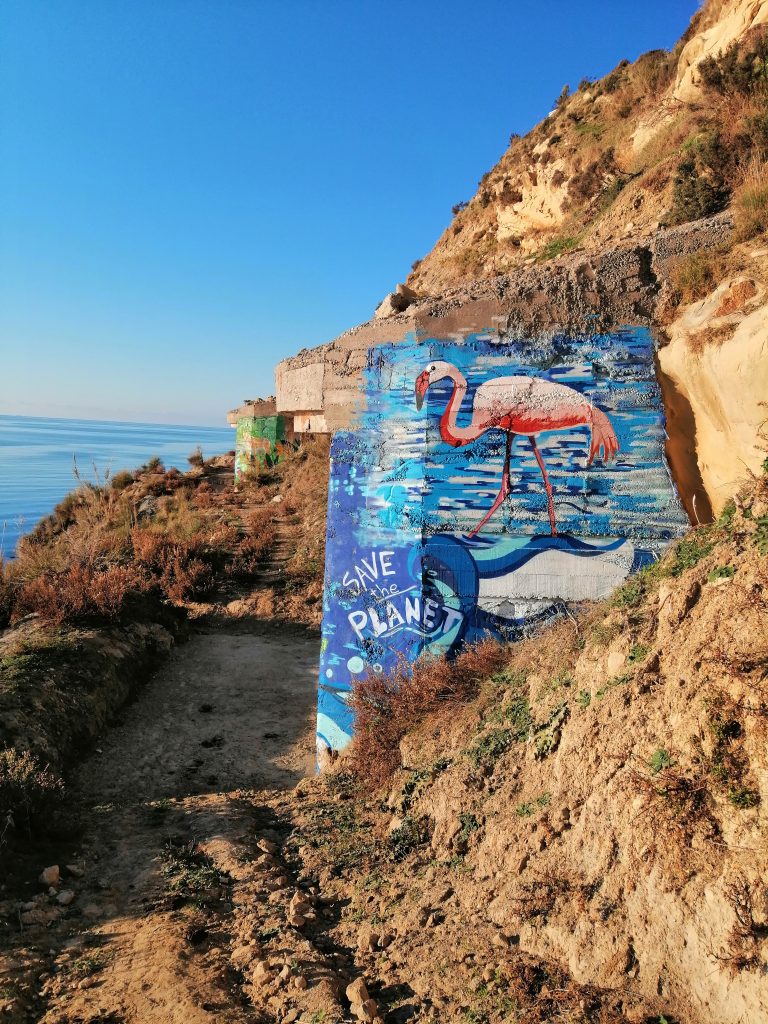 There are bunkers in the capital Tirana that have since been turned into museums and exhibition spaces. Bunk'Art, on the outskirts of the capital, is a large, converted bunker originally built to protect Albania's most notable military and political personnel. Nowadays it is one of Albania's most well-known museums. It contains original decontamination showers and reconstructed rooms that would have been set up in preparation for the nuclear strikes the country's communist leader anticipated. Entry costs 500 lёke (£3.90/€4.50). The Bunker parking is through a low tunnel but there's street parking and you may be able to use the parking at the cable car station behind the museum.
Natural spots
Bёnjё thermal baths
Tucked amongst the hills, not too far from the town of Pёrmet these springs are a favourite with the locals. As far as 'hot springs' go these ones certainly aren't the warmest that we've visited. They're about 25°C, so about swimming pool temperature. But the scenic location, nestled at the edge of the Langarica River makes it worth the visit. The main pools can be reached by crossing a picturesque Ottoman bridge while walking up the rocky riverbed will take you to a couple of other pools. Apparently, they all have different healing properties, but we made our bathing choices based on proximity and whether the sun had reached the pool to reduce the chance of freezing when we got out!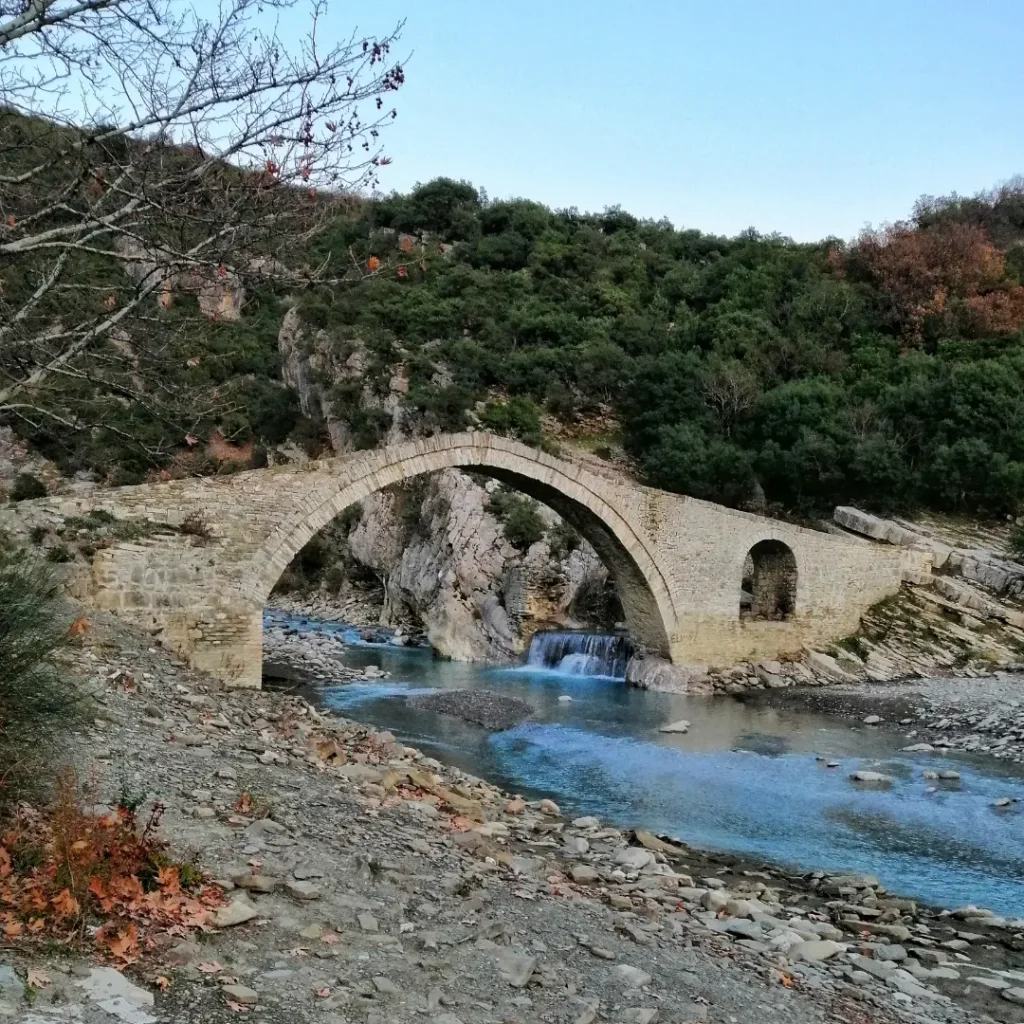 When we first arrived, it seemed to only be local men in the pool and I wasn't sure if leggings and t-shirt would be the 'appropriate attire' for a swim but normal swimwear was perfectly fine. A couple of our European friends (being generally less conservative than us Brits) opted to swim 'au naturel' although there are signs forbidding this, and I doubt it would be acceptable in summer.  There's tonnes of parking which is free in the winter although apparently they do charge in the summer. There's also a toilet block in the parking area and a little bar but these were closed during our visit. We ended up spending about four days here over Christmas, hanging out with fellow travellers and enjoying some downtime in this scenic spot. It's a great place to meet others who are overlanding in Albania.
Blue Eye Spring
Not too far from the Greek border this particular site doesn't sound particularly impressive. It's just a natural spring tucked away in a quiet corner of the Albanian countryside. However, there's a little more to it than that. This spring's origin is somewhere deep underground, in an underwater cave more than 50 metres below the water's surface. Due to the depth and water pressure the exact source has never been reached. It's the source of the Bistrice River and pushes water to the surface at an impressive rate of 6000 litres per second! The bright blue water is crystal clear and the plant life surrounding this water source is more reminiscent of a tropical rainforest than a little pocket of the Albanian countryside.
There is a large car park by the road (39.916746, 20.181486). From there you can walk the 2km to the spring along a paved road although you can drive closer for a small fee. Entry is supposed to be 50 lёke (40p/45cents) per person but when we arrived between Christmas and New Year there was no one there to take payment. The pedestrian access was open so we went in for free.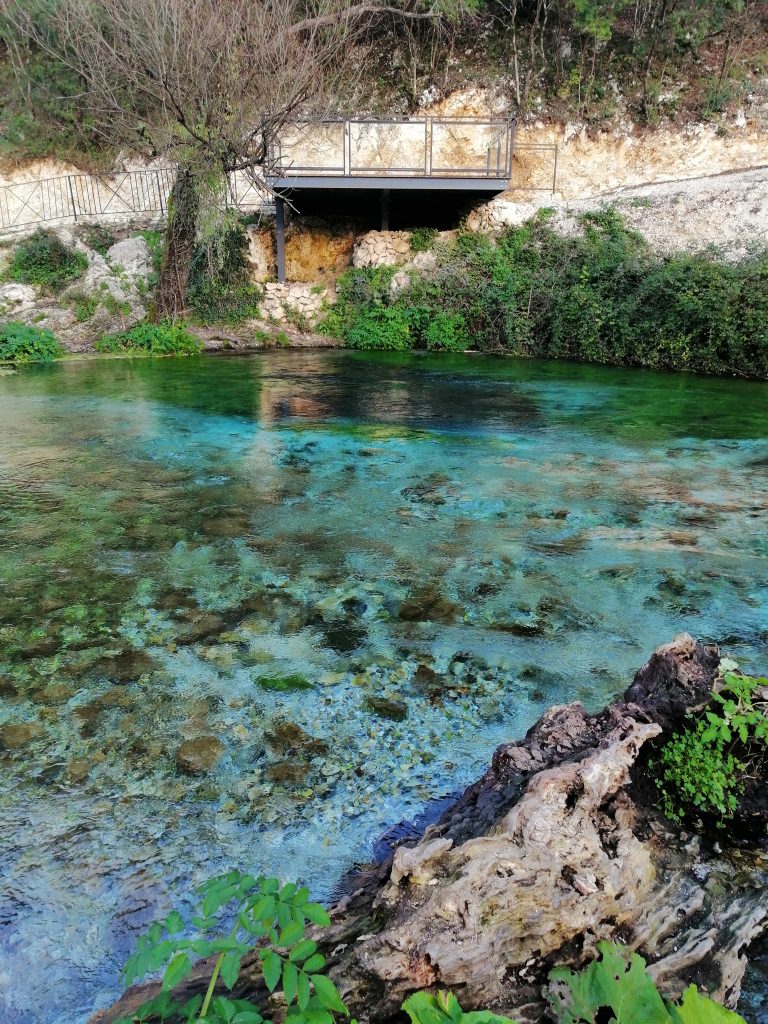 The Albanian Riviera
While Albania has quite an expansive coastline it doesn't have the sort of media hype that its neighbour Greece has when it comes to its beaches. When we began overlanding in Albania we were disappointed with the state of the first beach we visited near Durres. However, we quickly discovered that this was not the norm!
Once we reached the South of Albania we quickly discovered crystal clear waters and pristine sandy beaches. Because it was winter they were also completely empty! While the Albanian winter weather isn't ridiculously warm it's certainly a step up from the conditions back in Scotland! We went swimming on New Year's Day because it was actually warm enough to enjoy, not just because of some bizarre, adrenaline-inducing tradition! In the summer I can imagine the beaches will get pretty busy with the shore-side restaurants and paid parking, but in the winter we had the place to ourselves and parked up for free in some stunning locations.
Gjipe Beach is a stunning little cove tucked into the mouth of a Canyon not too far from Dhёrmi. There is a small rough road down to the beach but it isn't really accessible with a vehicle. It's about a twenty minute walk from the parking (40.130271, 19.658062) which apparently costs 300 lёke (£2.40/€2.70) for the day but again we didn't see anyone to pay in January. In the summer they appear to have a couple of beach bars and sunbeds to rent but in the off-season you might find you have the whole place to yourself.
Lukovёs beach was another pleasant surprise. We arrived to find a string of beachfront restaurants at the end of a windy mountain road but it was deserted. The beach was clean and the water lovely and calm – perfect for a swim. The open space behind the restaurants was perfect for parking the truck too (39.970958, 19.914619). However, we had to be cautious of the overhead powerlines across the track and pick our route cautiously. We spent four days here over New Year with fellow travellers, swimming daily and having campfires. Apart from a couple of curious locals the only visitors were stray dogs, wild horses, and a herd of goats passing through with their shepherd. Obviously in the summer things would be different, with paid parking, more people and probably less freedom but it's a spacious beach and I think it would still be worth visiting, even in high season.
Beachside park-ups were a real highlight while overlanding through Albania.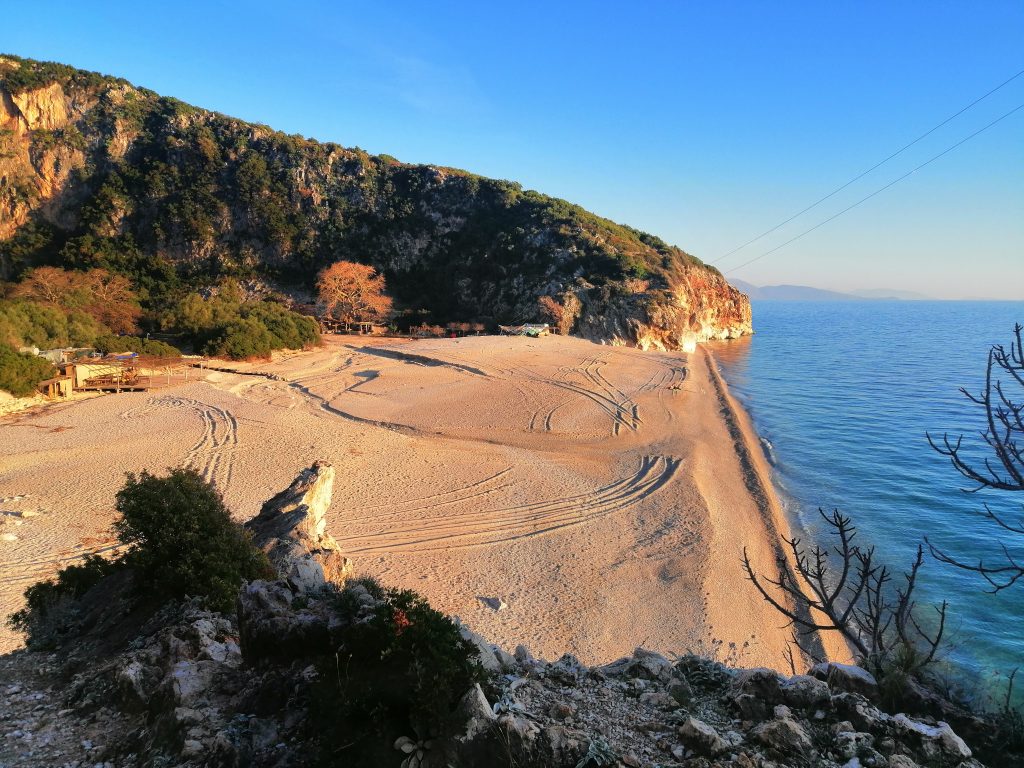 Towns to explore
Kruje
The town of Kruje, set up on a hill, has great views all the way down to the Adriatic coast. Kruje Castle was the stronghold of the military commander Skanderbeg, an Albanian national hero. From this location and with limited troops Skanderbeg successfully defended the castle from vast Ottoman forces and fought for Albania's independence in the 15th century. The twisted old olive tree in front of the castle was supposedly planted on Skanderbeg's wedding day in 1451!
Meanwhile, the town's old bazaar holds its own historical significance. Thought to be the oldest traditional market in Albania at 400 years old this cobbled street lined with little wooden stalls has a special feel to it. You can find all sorts of handcrafts here, and vendors selling everything from sheepskin and woven rugs to copper pots and painted ceramics. We walked through the market as dusk fell, just as the call to prayer came over the town tannoy system. Regardless of any religious opinions it was an atmospheric moment and a highlight from our trip.
Visiting Kruje involves a typically windy and steep road – it is a hilltop town after all.  We were able to park our truck in the covered free parking next to the statue of Skanderbeg overnight (41.511161, 19.792123). Unfortunately, it was pretty noisy and there were people hanging around well into the early hours. I'd recommend visiting but perhaps head somewhere else to spend the night.
Berat
Berat is otherwise known as the 'Town of a Thousand Windows'. A settlement for over 2500 years, this city is now a UNESCO World Heritage Site and one of the most visited places in Albania. Both river banks are lined with traditional Ottoman houses which stretch upwards, stacked up against the rugged hills behind. The main attraction is Berat Castle, which over the centuries grew to accommodate numerous churches and a large portion of the town's residents. Even today people live within the castle walls surrounded by its history! The Holy Trinity Church is the most eye-catching but there are around a dozen churches and mosques scattered through the old streets, from the Ottoman and Byzantine eras.
The road into Berat is great (as long as you don't try to take any unusual shortcuts like we did). There are a couple of campsites and paid campervan park-ups around the town. We just parked in the free roadside parking along the river as we weren't staying overnight.
Gjirokaster
You might be surprised to hear that Albania has a second town with a World Heritage Site centre but arriving in Gjirokaster you can see why. The old Ottoman architecture is certainly picturesque and can be quite atmospheric depending on the weather. With winding little lanes and charming stone houses there's so much history to explore. While the main streets have been carefully restored the backstreets tell the tales of the hardships the town has seen, adding to rather than subtracting from the character of the town.
Looming over the town is a 13th Century castle. It's a bit of a climb but it's worth it for the views and inside there are some interesting weapons collections and, surprisingly, the remains of an old US Air Force plane. Ticket prices for the castle are 200 lёke (£1.60/€1.80) and another 200 lёke to visit the museums. The single surviving mosque is open to all visitors there's an old Cold War Tunnel underneath the city that you can explore.
There is a handy parking area just outside the Old Town on Rruga Gjin Zenebisi (40.076671, 20.143313). We didn't spend the night but spoke to others who did and were happy with the park-up.
Why should you go overlanding in Albania?
There's so much to see in this surprising little country, and I've only covered a small amount of it here. From historic sites to impressive landscapes Albania has it all.
For adventure travel and off-roading there are few places in Europe that allow the freedom still available in Albania. We spent a lot of our time in the backcountry, exploring dirt tracks, sitting around campfires, and enjoying the open spaces. But it's not just about that. Everywhere we went in Albania people were so friendly. Locals came and spoke to us to find out about us and to make sure we were enjoying their country. We were given fresh fruit at the side of the road, offered some rather tasty/lethal local liquor, and welcomed with open arms throughout the country.
Yes, there are some negatives that you have to overlook. The number of stray dogs and piles of waste take some getting used to, and no matter where in the world you go you're likely to find the occasional individual looking to take advantage of a hapless tourist. However, considering how little we knew about Albania before we arrived, and after spending 6 weeks of our winter trip there, we can safely say that we will be returning someday. Personally, I can't wait to see what's next for this intriguing little country.
If, after reading this, you're now considering going overlanding in Albania I'd go sooner rather than later – before everyone else finds out about it and the masses descend!
To read more about some of our other adventures check out the rest of our travel section here.