How to choose your Overlander campervan
How to pick your camper
Anyone who has ever looked into getting a vehicle to overnight in will know there's a whole range of options to suit every need. There are campervans, motorhomes, micro-campers, stealth vans, overlander campers and more.
There are so many different aspects to consider when it comes to making your decision. Some of the points to consider include:
How many people are travelling and staying in your vehicle?
Will you be full time or only using it for holidays and weekends?
Do you want to be off-grid, or do you want to use campsites?
Will you be spending your time in the cities or out in the countryside?
What facilities do you need to be comfortable and happy?
And that's only a handful of factors you need to think about before you even begin to look at the make of model of the vehicle you'd like!
We knew we needed room for two of us full-time. And we would be spending our time off-grid and out in the countryside as much as possible. An Overlander looked like the way forward for us.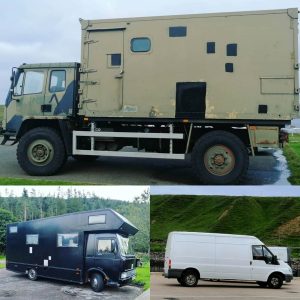 To find out more about what overlanding is check out this post.
Which Overlander is right for you?
Having already spent the previous couple of years living in vans and campervans we already had a good idea of what we needed to be comfortable and happy. Now we had to decide which overlander would work for us. We had quite specific requirements for Tiny's replacement.
Space: Since we already live in a fairly large camper we didn't want to compromise on space. Our vehicle needed to suit two people as standard but also accommodate at least two more for if Stuart's kids or anyone else wanted to stay over – so that was important to us. We wanted room to work from the truck, a full bathroom and a fixed bed. We didn't want to have to make and unmake our bedroom every day.
Carrying capacity: a big bonus with the old campervan was that we had lots of room in it with a garage at the back capable of carrying a motorbike and a tonne of tools. While we didn't want internal bike storage this time we knew we wanted to be able to carry a range of tools, spares, and enough resources – including water – to last us a couple of weeks if needed. So additional carrying capacity is something we wanted.
Off-road capability: we already knew that we would like a vehicle that could handle more than just a tarmac road but Belladrum festival 2019 solidified that decision. We took our current truck onto the camping field and started bogging down almost immediately. We love exploring new places and don't want to risk getting stuck in the middle of nowhere.
Availability and affordability: We looked at so many different vehicles but one of the big deciding factors was budget. Some models looked great but were way out of our price range. A big factor for doing the build ourselves was to be able to complete the truck and still have funds to start travelling. We also wanted to ensure our choice wouldn't cost a fortune in upkeep or be difficult to find parts for. We learned that one with the Iveco.
Durability and simple mechanics: We had to make sure that whatever vehicle we settled on could be relied on. It's no use if it breaks down all the time (like a few other vehicles we've both owned in the past). On the other hand, it had to be easy to fix on the roadside. New vehicles are full of electrics and can be a nightmare to fix without plugging them into a computer.
Engine experience: This one is probably not a factor that a lot of people will be thinking about when it comes to their vehicle choice, but it was definitely a bonus as we zeroed in on our top couple of options. The cummings 6BT is a fairly common engine that Stuart has worked on before on boats. He's rarely had to do any serious repairs on them, and the parts aren't too hard to come by.
Redundant drive train: And just when you were thinking we'd done enough thinking about the potential for a truck to break down… a plan B for if we had a major incident where a half or prop shaft got wrecked seemed like a good idea. With a redundant drive train we would manage without four-wheel-drive until we could fix whatever had caused the problem.
fuel consumption: Ok, just going to wait for the laughter to stop. All of these big trucks do use a lot of fuel, there's no denying that. But these trucks are pretty big as far as portable, tiny homes go so really it was a case of considering which would be the least thirsty. Then there's the fact that some of these old trucks take petrol instead of diesel.
So – We'd given ourselves a lot to think about!
After weeding out vans, horse trucks and buses we still had a range of possible Overlander trucks to consider.
| | |
| --- | --- |
| Zil 131 | Mercedes vario |
| Star | Rb44 |
| Man | Unimog |
| 4×4 Iveco | Ural |
| Margius Duetz | Kamaz |
| Daf Ginaf | Steyr |
Our choice
In the finish, an ex-military Leyland Daf t244 4×4 seemed like the best way to go. Once we built the box, we knew it would have enough room for us. With the height of the flatbed there was plenty of room for external storage and we knew it would be a lot harder to get one of those bogged down than our first truck!
Being an older model army truck the mechanics are pretty simple, and it has a solid engine meaning the maintenance shouldn't be too difficult, especially with Stuarts experience with working with them.
As for the fuel efficiency, it's not the best but our friends with the same truck say they can get 15mpg – so it could be worse.
After finally working out what make and model Overlander we were after we just had to find one in good condition, for a decent price. But that's a different story.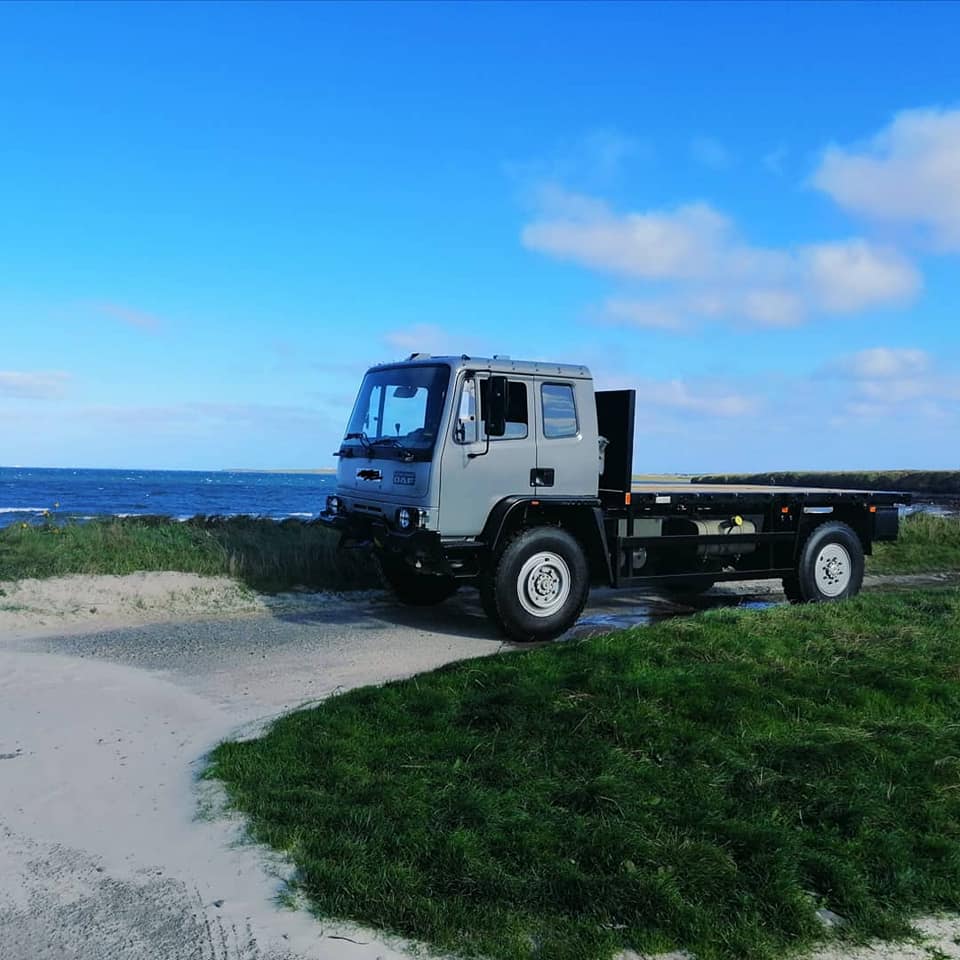 To help you decide which Overlander truck is 'the One' click here