How to find and buy an Overlander truck
Choosing your Overlander truck is a big decision. This vehicle is going to be your home (part-time or full-time). You might be planning on travelling all the way around the world with it – so there's a lot riding on this choice.
You have to decide on the make and model, but you also then have to find 'the One'. Some people might choose to work out the type of vehicle they want before going and looking for the exact one. Others do it differently. Because our requirements were quite specific, we did both at once.
For tips on choosing the right type of Overlander truck for you click here
Finding our Overlander truck
After working out roughly what we were looking for we started looking at sales listings. We checked out MOD auction sites, European truck dealerships, and private companies with trucks in varying states to sell on. A lot of time was also spent sifting through eBay listings. That's where we found Dinky in February 2020.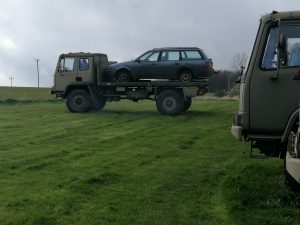 We hadn't planned on any serious truck-hunting until the end of that year and were just supposed to be window shopping. However, Stuart found a left-hand drive Leyland DAF that looked to be in good order and we had to check it out.
We originally had holidays booked for early March to go to Shetland for Up Helly Aa. Stuart was supposed to be part of the Brae 2020 squad, but it got cancelled because… well we all know what happened in March 2020.
Since we had the time off, and the truck was in the North East of England where we have family we decided to swap our ferry tickets to go South. This was obviously before there was any serious talk of lockdowns of travel restrictions.
We set off from Orkney on the ferry and after an uneventful journey south we made it to Northumberland in good time for our truck-viewing-appointment the following day.
Arriving to view the DAF we found a whole yard full of other trucks, communications boxes, tractors – all sorts. After being shown which one could be ours Stuart gave it a thorough look-over. We got some batteries on there and had a drive around the field. It seemed to be in good order, despite sitting for a couple of years.
Retreating to Tiny (our current campervan) we talked it through and agreed that this was going to be 'the One'. It was a little hard to believe as we hadn't really viewed any other trucks – surely we couldn't be lucky enough to get it right first time.
We dealt with the paperwork but still had to work out how to get Dinky to Orkney…
Getting our truck home
Many of the old ex-MOD vehicles that come up on the market, ours included, are not road registered. This meant that there was no way we could drive our Overlander truck on the road, let alone from the North East of England to Aberdeen for the ferry. Instead, we had to find someone with a low-loader who could transport it for us.
Online research took us to a site called Shiply. It's a platform to arrange for the transportation of pretty much anything, to pretty much anywhere. We put out a request and had a couple of transport bids pretty quickly. CMC Services seemed like the way to go.
We were really lucky that we could just leave the collection to the transportation company once things were organised. The owner-operator went above and beyond with the job. When he arrived to collect the truck there was no fuel so it died halfway onto the low-loader! He got some fuel sorted, bled the system, and got it running himself before finishing the loading job and setting off to Aberdeen. Moving our truck also timed in with another delivery for the company which reduced the amount we had to pay!
The scheduling of the transportation meant we had a couple of days spare before we were meant to meet up in Aberdeen. So, we spent the time meandering up through Scotland and deciding how we were going to build our home on the back of our new truck.
Once in Aberdeen, we got the truck unloaded off the transporter and were eventually allowed to put it on the ferry for the last leg home. At the other end it was just a case of moving it to its temporary home until it was road legal – but that's a different story.
Top tips
Here are some of our top tips for finding and buying your own Overlander truck:
Where to look:
What to look for – personal requirements will be quite varied but key things include:
Plenty of useful photos
Good seller communication
Chassis/structural condition
Clean bodywork
How it runs
Hoses and fittings in good condition
The buy:
Ensure you get the cast certificate and that it matches the chassis number
Confirm it ticks all of your requirements
Take your time – this is one of your most important Overlanding decisions
If leaving an initial deposit make sure you're happy with the numbers – that goes for the total cost too.
Getting it home:
Confirm if it's road legal or not
If it's not road legal shop around for a transportation service (we went through Shiply)
Make sure you have somewhere to store it once you get home!
It's not an easy decision when it comes to choosing your Overlander truck but it's the first and possibly biggest step in beginning your Overland, adventure life!