Where to visit when Overlanding in Andalusia?
Overlanding in Andalusia may just have been one of the best bits of our winter trip to Spain.
Andalusia (Andalucía in Spanish) is the second-largest region in Spain and seems to account for most of the sunny South, but beachlife isn't all this region has to offer. We had an amazing time exploring this diverse area, from visiting cultural capitals like Sevilla, to driving off-road through remote deserts. And ok, there was the odd trip to the beach too!
As you may have read in our Basque Country piece Spain is quite particular about it's camping Vs parking rules. If you park up and cook, sleep and generally live inside your vehicle you're fine. Once you stake out your camping chairs and BBQ's you're camping and it's not ok anywhere except for campsites. In some places, more so in the winter, you can "get away with it" but if the Policia show up you might get a telling off. Overnighting in National Parks also isn't allowed, but designated campervan areas can often be found in nearby villages.
Another thing to keep in mind is that while some areas are happy to accept campervans in the off-season they might not in the summer. We usually make a point of checking our potential park-ups on Park4night to see if anyone has been moved on or had any problems there before. Most potential places in a popular region like Andalusia have been logged on there at some point.
Anyway, here are some of the best spots to visit when overlanding in Andalusia.
Natural sites
Gorafe
The breathtaking Gorafe desert area was easily one of the best places we went while overlanding in Andalusia. This dramatic landscape is packed with bizarre rock formations, canyons, and megalithic sites, including over 200 burial monuments! There are miles and miles of tracks to explore depending on your mode of transport. And there are abandoned cave houses, ancient riverbeds, and unusual wildlife to be discovered at any moment!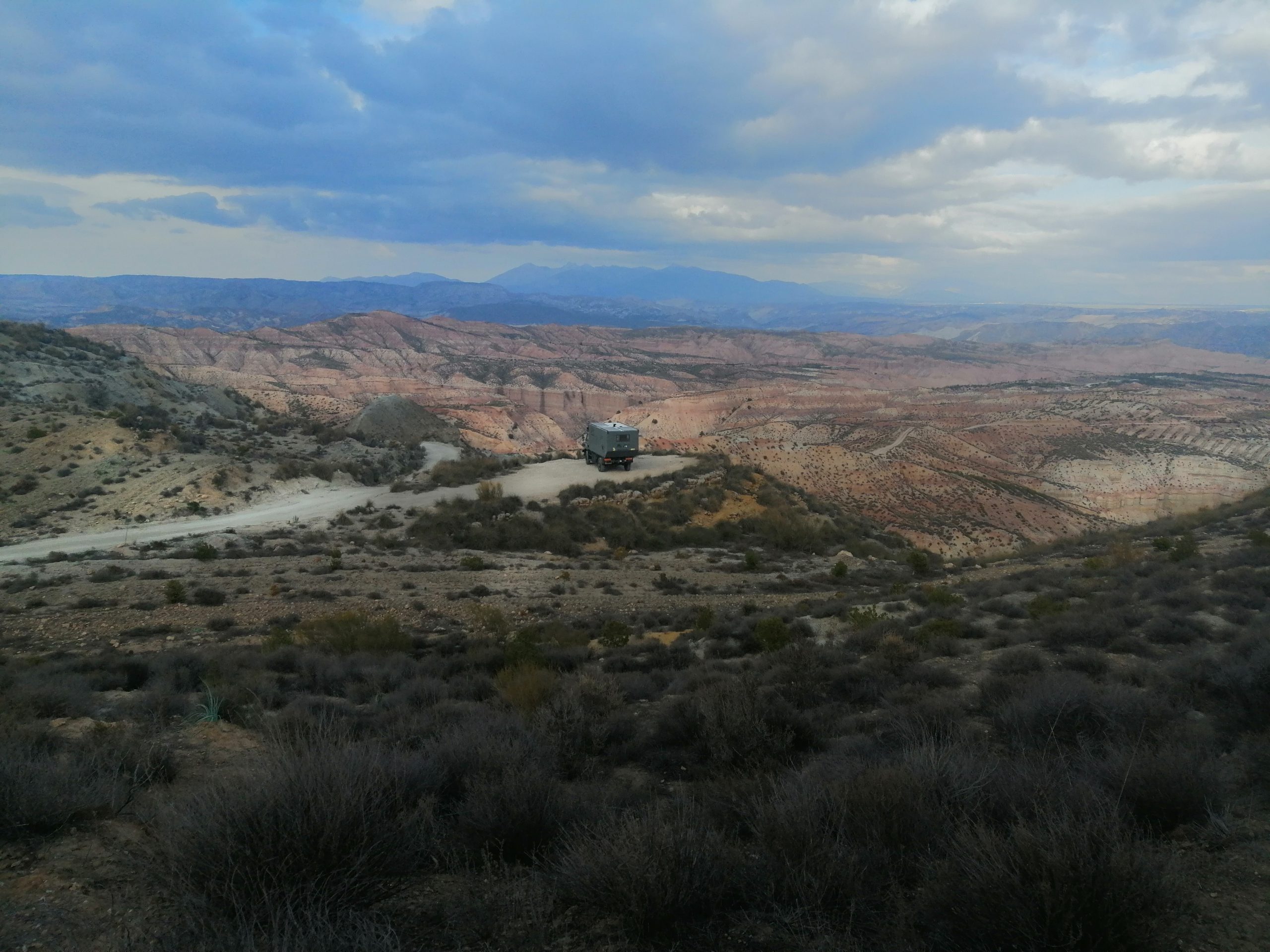 We found out about a great route through the heart of the Badlands and onto some fairly technical driving sections. I would say you have to know your and your vehicle's limitations and be aware of the weather; one wrong move or a rain shower could cause you some serious trouble. But you can honestly spend days driving and hiking around this area and hardly see anybody else. Over two days we only saw half a dozen other vehicles. If you're up for some adventure driving this is the place to go.
We found a spectacular park up by the side of the track (37.5412549, -3.0478380) with views over the canyons. There are plenty of great spots scattered around the area waiting to be discovered.
El Chorro and the lakes
The El Chorro gorge area is most well known for being a great place for rock climbing. There's plenty of hiking, biking and water sports to try out here too if you're keen! And if adventure sports aren't your thing, it's still a beautiful area to visit, relax and enjoy the scenery.
The big highlight of El Chorro is Caminito del Rey. This 100m high walkway snakes it's way around the gorge giving you a unique view and a memorable experience! It was renovated a few years ago from a sketchy workers' route to an epic walking trial! It's worth buying your ticket in advance as they only allow a limited number of visitors each day. For parking your best option is right next to the dam (36.9056839, -4.7599601).
The neighbouring lakes are also gorgeous, and a great place to spend the night. When we visited the area Andalusia was experiencing a major drought and the Embalse Conde de Guadalhorce (one of the three major lakes) was only about 7% full! This meant we were able to park up on the dried-up lakebed for the night (36.9048684, -4.8215839). There were a couple of other campers dotted about but there was so much space that you hardly noticed them!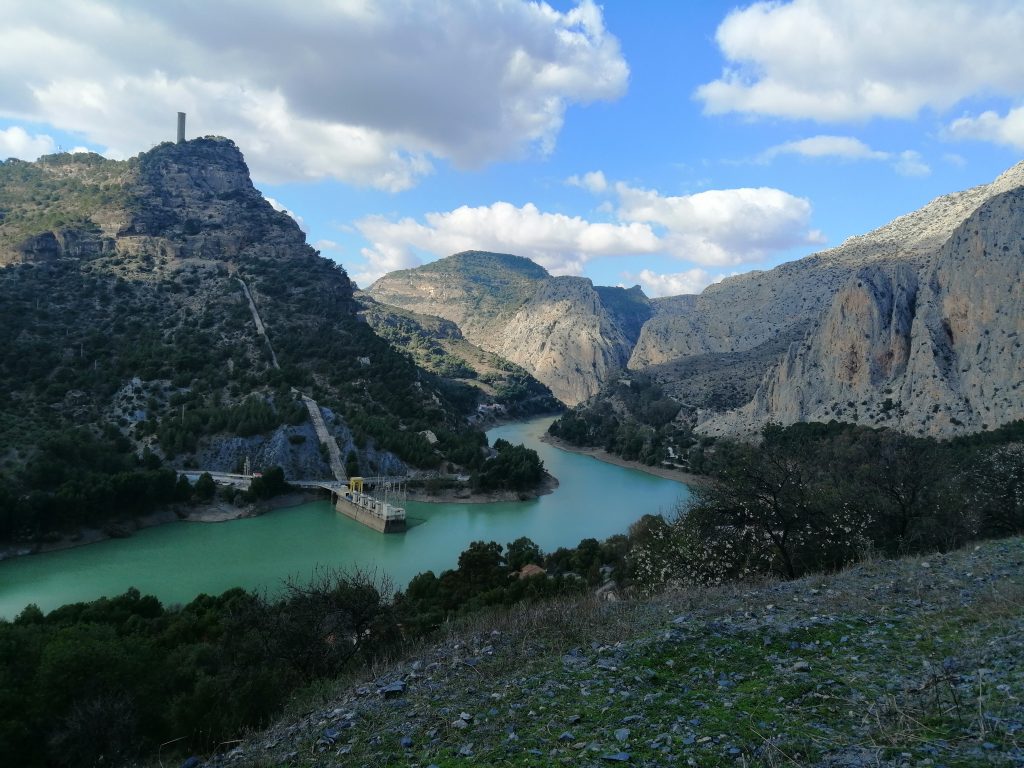 Baños de Zujar
Spain has so many thermal baths and the best region for these is actually up in Ourense but if you're sticking to Andalusia this one might be for you. This pool by Embalse Negratín is about 40°C even in winter and the minerals are apparently great for your skin. We certainly enjoyed the water after a couple of days of driving around the desert!
There are actually two pools to choose from. The restaurant above the lake has a tiled thermal swimming pool that you can use for a couple of euros, or there is the natural clay-bottomed pool below. When we were there the restaurant was closed but the lower pool was lovely. There were some hippies swimming about 'au naturel' but if you're fine with that it's a great place to relax. There's a stunning view, frogs croaking in the background, and you can watch the sun set behind the hills. Be warned though – if the lake level is too high it floods the pool and it will be as cold as the rest of the lake! It also gets chilly at night (at least in the winter) so be prepared when you go to get out after a couple of hours in the 'bath'!
For parking there is a rocky area right next to the lower pool but the road's a bit rough and tricky so you might be better parking above in the higher car park (37.5981886, -2.8135461). There is also the paved restaurant parking if you're using their facilities.
Nerja Caves
The Nerja Caves on the outskirts of Maro are some of the best in the country. They are home to the world's largest column (a stalagmite merged with a stalactite) at 32m high with a base of 13x7m. There are also cave paintings dating back over 40,000 years – the oldest known works of art in the world. The caves are huge, and they actually host an annual music and dance festival in one of the amphitheater-like caverns!
There are a few different tour options for visiting the caves (recommended to buy tickets in advance) ranging from audio guides to special night tours (prices vary). They do have a mixture of English and Spanish tours so be sure to pick the right one. If you have mobility or certain other health issues you might struggle with visiting the caves. However, they are actually working on creating a virtual reality cave room which should be ready soon. The botanical gardens, restaurant, and other facilities mean you could easily spend the whole day. There is a large parking area for approx. €2 (36.761617, -3.847079).
Unfortunately, we didn't get chance to visit the caves on this trip as we got side-tracked hanging out with some awesome fellow 'lorrylifers'! It's another great excuse for us to go back to the area.
Playa las Palmas
So, I did say that Andalusia is more than just sun, sea, and sand, but you can't ignore the fact that the region has over 600miles of coastline lined with some of the best beaches in the Mediterranean. We were more interested in exploring the rugged inland areas while overlanding in Andalusia but we did enjoy a couple of trips to the beach, and Playa las Palmas is one that I think we'll always remember.
Just to the south of Murcia and the town of Aguilas is a lovely beach with an amazing atmosphere. There is a long, narrow sandy beach with some old, fortified ruins behind. The north end is quite rocky with a steep headland hiding the beach from the busier town-side.
We went for a swim every day that we were there… in February! Our afternoons were spent just sitting out enjoying the sun before we headed back north. It was a great place to just decompress.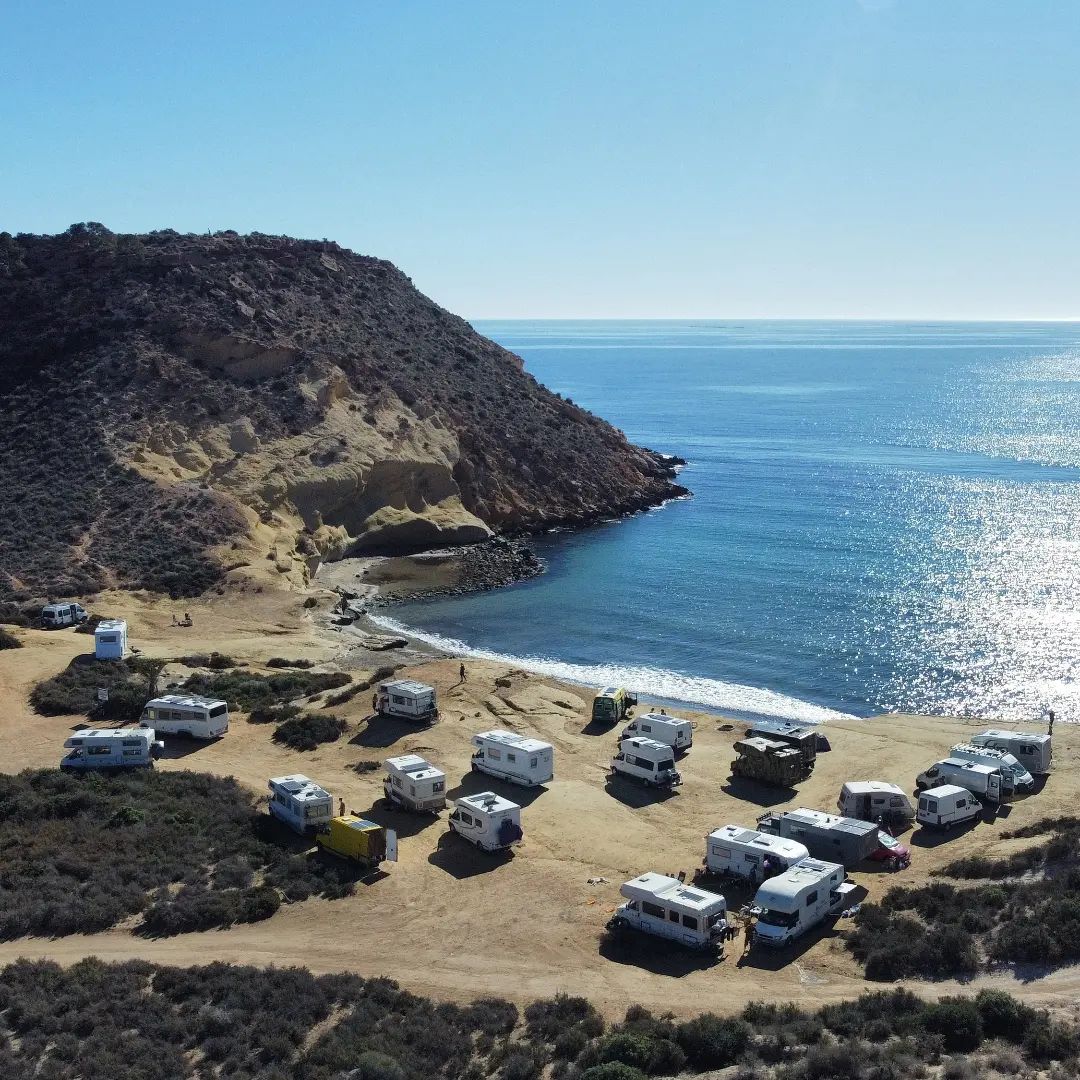 There were quite a few other people there camped there, but it had a lovely hippy feel and everyone was very friendly. Kids and dogs ran free, but it was chilled, tidy, and felt super safe. And there is a baker's van that comes by most mornings with bread and pastries to buy!
Depending on your entry point (as there are a couple) the track in can be quite rough so do consider your ground clearance. You might find the first entry point off the roundabout to be a bit iffy. There are signs saying that you can't visit parts of the beach with campervans in the high season (April to October I think) although I don't know if this is strictly enforced. You can park along the back of the beach or up on the rocks. We parked up on the flat rock at the north end and stayed for a few days with our fellow full-timers (37.375648, -1.635808).
Parks
Doñana National Park
The Doñana National Park is one of the most important wetland areas in Europe! It's home to over 200 bird species plus loads of other wildlife. The combination of different ecosystems throughout this park make it unique and are one of the major reasons that it has such diverse wildlife. There's also the fact that it's an ideal stopping off point for loads of migratory birds including flamingos. The protected status of the park makes it a haven for some of Spain's most threatened species from the Imperial eagle to the Iberian lynx!
Because it's such a protected area you aren't allowed to drive through the park or wander wherever you like. However, there are plenty of bird hides and well-maintained trails going from the park visitor centres for you to explore. There are also a few marked routes along the edges of the protected area. If you want to get into the heart of the park and discover the various ecosystems it might be worth booking an in-depth tour. These tend to start at €33 per person depending on the company.
For overnighting near the park there are a few car parks along the beach that seem to allow overnighting. One option is along the Mazagón-Matalascañas road, about halfway between these two villages (36.989101, -6.521420). You can also park further away from the beaches in the village of El Rocío (37.139961, -6.486942). In that odd little village the streets are all sand and horses still rule the roads. It really looks like something out of an old spaghetti western!
Cabo De Gata Natural Park
If beautiful beaches, rugged hills and interesting wildlife are your thing then Cabo De Gata should be on your bucketlist! The white sandy beaches are relatively quiet compared to some of the busier city beaches and there are secret coves tucked away off the beaten path. Footpaths crisscross the entire Natural Park allowing you to explore a variety of environments from volcanic clifftops to fields full of farmed prickly pears. You might even stumble across familiar-looking site as Mosul beach was used for filming part of Indiana Jones and the Last Crusade!
The area is teeming with wildlife with everything from ocellated lizards to flamingos. We saw maybe two dozen flamingos pottering about in the salt pools just outside the village of Cabo De Gata!
Now, because it's a Natural Park there aren't loads of open roads to play on but it's worth getting out on foot to see things at a slower pace. You also can't overnight in the park, but the villages nearby have suitable areas instead. We used one in the Cabo de Gata village (36.7788351, -2.2428535).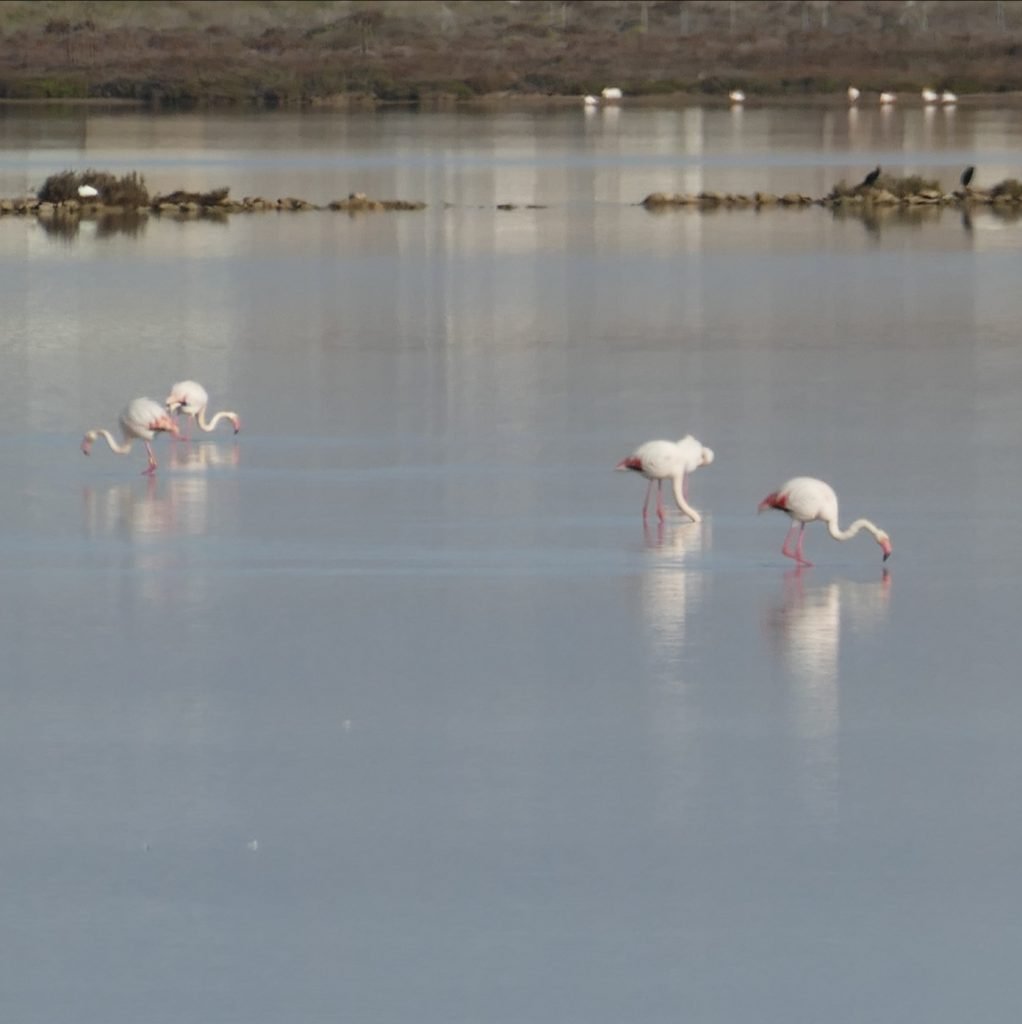 Sierra Nevada National Park
For serious mountains and snow sports the Sierra Nevada is the place to go. We were trying to avoid the cold on this trip (and were running out of time) so I'll admit we skipped it but we'll definitely be visiting next time.
This mountain range is possibly most well-known for it's proximity to the Mediterranean Sea. They're so close that you can ski here in the morning then go swimming in the sea in the afternoon! Even if you're not planning on heading for the slopes it's worth visiting purely for the scenery and the roads. You can wind your way between the mountains and hop between the little, white mountain villages. In this rural region you're more likely to find flocks of sheep than other travellers, especially as you get further from the ski slopes.
As with Cabo De Gata there are some parking limitations but there are options in the neighbouring villages such as Trevélez (37.002102, -3.268680). There are also ski stations like Hoya de la Mora (37.093800, -3.385960).
Sierra de Grazalema Natural Park
With so many different natural areas, nature reserves and national parks across the region it can be hard to choose which ones to visit while overlanding in Andalusia, especially if you have a time limit. But the fact that Sierra de Grazalema Natural Park was the first to be declared a UNESCO biosphere suggests it should make the cut!
You could spend days exploring the rugged cliffs and, gorges and cave systems. Adventure sports are a big deal around here so if you want to try anything from rock climbing to spelunking this might be your chance. Or you could swap four-wheels for hooves and a saddle and go trekking on horseback through the mountains. There are also plenty of forest and riverside walks and lovely little white villages to wander around, including Grazalema itself.
As with the other protected park areas there are restrictions on overnight parking in the 'wild'. But just outside of Grazalema there is a handy car park that you can overnight in (36.761902, -5.362270). There is a campervan area in El Bosque (36.757099, -5.510770) but the spaces might be too short for larger campers.
Cities and Towns
Sevilla
In case you haven't already guessed we are not city people, but Sevilla is definitely an exception. There is so much to see and you could spend a couple of days sightseeing. The main attraction is the Real Alcázar – a beautiful palace complex full of decorative carvings and tiles, and surrounded by ornamental gardens. I've been here twice before, and I would gladly go again! You can buy tickets at the gate or online for €13.50.
The Sevilla Cathedral is equally impressive and is the largest gothic structure in the world. It would be the largest cathedral in the world too, if it weren't for Milan…!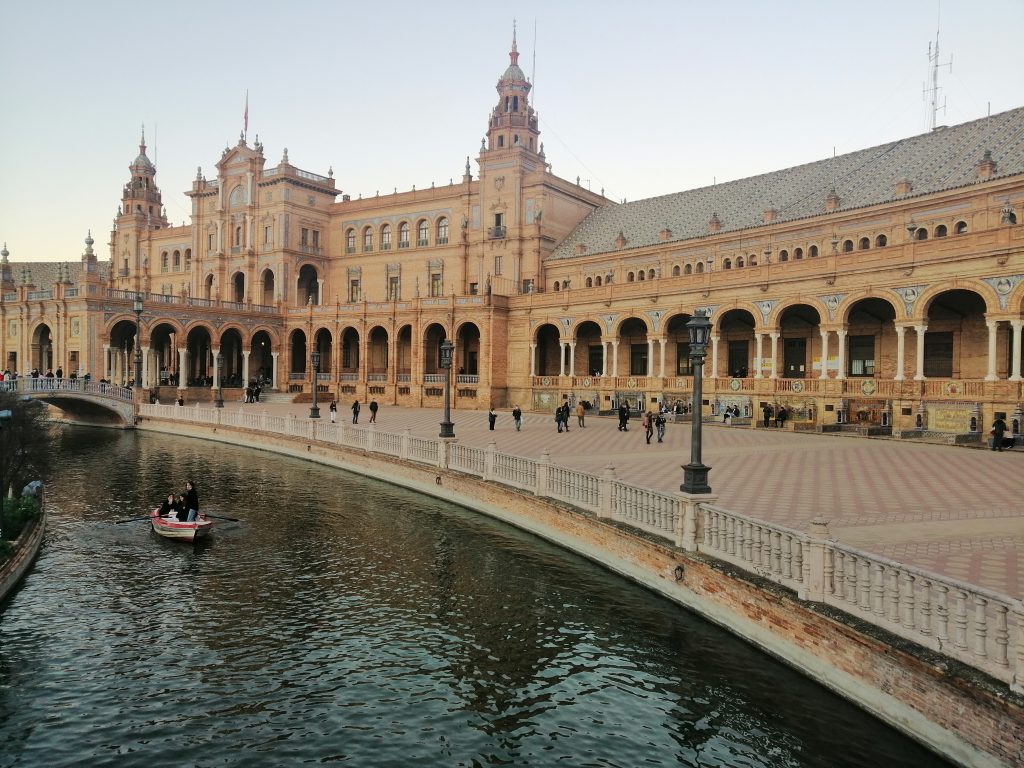 The Plaza de España in Parque de María Luisa is possibly one of the most recognisable spots in Spain. It is the perfect spot for relaxing between sightseeing. The park is full of ornamental gardens, fountains and historic buildings (including a couple of museums!), plus there are parrots! The Gypsy quarter of Triana across the river is also visit-worthy, especially if you like flamenco or decorative tiles.
For overnight parking there are a couple of options – we chose the 'Area Autocaravanas Sevilla' secure parking (Av. Garcia Morato; 37.361799, -5.994649) which was a couple of kilometres walk from the town centre and cost €12/day. We wouldn't normally pay for parking but for security we decided it was the best option as people had reported break-ins from some of the free parking. We also met our first fellow Overlanders of the trip here which was a real bonus!
Guadix
The small city of Guadix, near Granada, is most well-known for it's cave houses. Many of the town's inhabitants still live in these houses and exploring the cave district was a real highlight. To be honest, it's not the prettiest area – some parts look a bit dilapidated – but it's interesting to wander around. If you walk up to the viewpoint you can look across the whole district and see the Sierra Nevada beyond. Some residents do let visitors look around their homes for a small fee and it's really cool to see how the houses have been built into the rock. Stuart was intrigued by how they'd built the chimneys which just poked up out of the top of the rockface.
There is a large parking area 'Area Autocaravana Guadix' (Calle Adolfo Suarez; 37.3041610, -3.1333515). We met a few other Overlanders here and it's a handy starting point for heading up towards Gorafe.
Cordoba
Cordoba is packed with history from different eras and cultures. It's narrow stone streets are bursting with quirky tapas bars, ornate balconies and floral courtyards. In fact, if you visit in May they have a month-long festival celebrating the city's oldest and prettiest courtyards!
The Great Mosque (Mezquita-Catedral) is the most renowned site to check out and definitely worth a visit. Initially built in the 8th century and expanded and altered over the centuries this former mosque is one of the world's best examples of Islamic architecture. In the 16th century, the Christian King decided to swap out the central area for something a bit more 'churchy' but it took over 200 years to get to it's current design!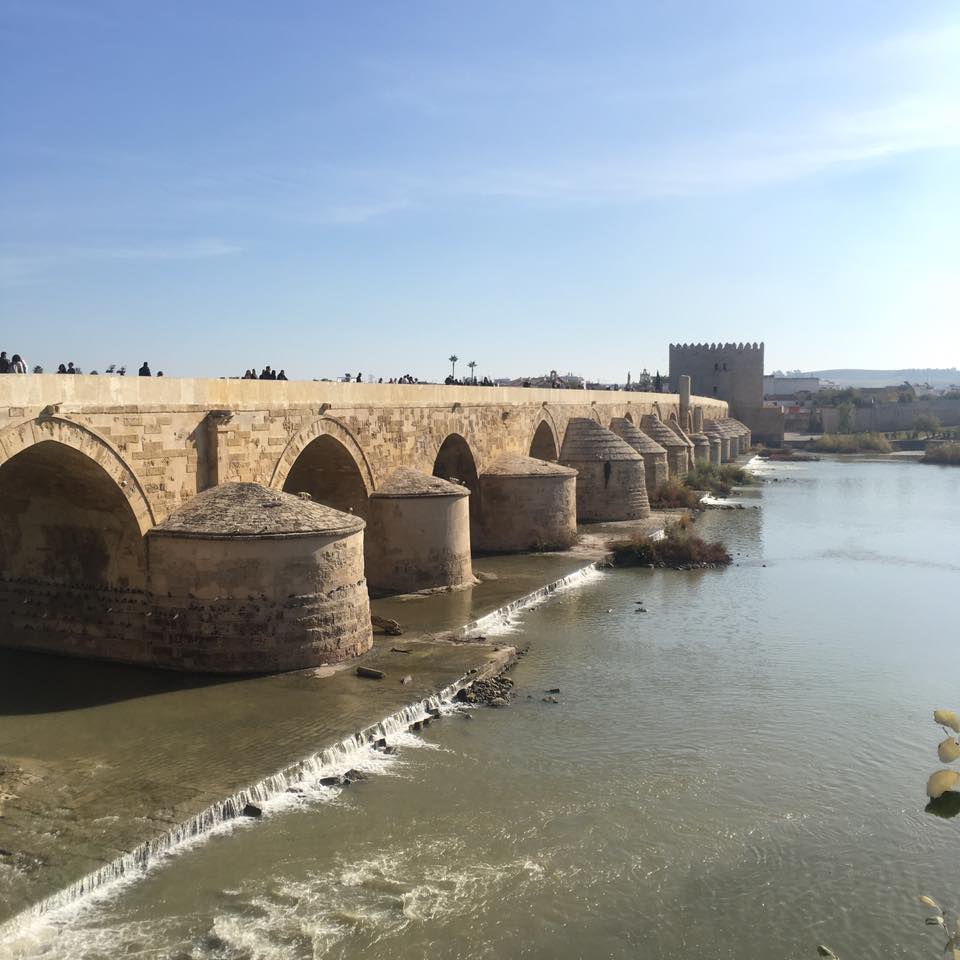 The Roman Bridge might look familiar to any Game of Thrones fans but in real life it was built in the 1st Century and crosses the Río Guadalquivir right next to the Mezquita. It's a nice place to take a walk and you can get some great views back across the old city.
If you're interested in Cordoba's more recent history the Palace of the Marquises of Viana might be right up your street. This stately home turned museum was still occupied until the 1980's but is now run as a museum. It's full of Renaissance art and décor, showing how the Aristocrats of Spain lived. The courtyards and gardens represent five centuries of design and culture from service yards to patios inspired by Greek mythology. There's a campervan area near the historic centre (37.874557, -4.786764) but it's quite pricy at €23 a night! There does seem to be plenty of other parking outside the historic centre though. This free spot near the zoo (37.868999, -4.787020) seems popular, although there are no facilities and it's not secure parking.
Granada
While we didn't get chance to visit on this trip Granada is definitely worth checking out. The Alhambra Palace is one of Spain's most well-known sites and a UNESCO world heritage site. It's a whole medieval walled city full of palaces, towers and gardens. This is a site I've wanted to visit since I was a kid (strange I know) so we will have to make a point of visiting next time we're in the area. You are best buying tickets in advance (€14) and give yourself plenty of time to get there. You can also visit the Charles V Palace, the Alhambra Museum and the Mosque baths for free. For the Nasrid Palaces you get a set time on your ticket, so make sure you don't miss your slot!
This city is also home to the Cathedral of Granada – Spain's first Renaissance cathedral and the Royal Chapel – the burial place of Spain's past Monarchs – which is right next door.
Granada is a great city to wander and explore as it's full of historic buildings, fountains and narrow little alleyways.  There is campervan parking by Alhambra (Calle Tramo de Union; 37.171761, -3.579859) but at €4.65/hr (max €31.20/day) in low season I would suggest only using it to visit the Alhambra or think of it as an expensive aire and make the most of it. Granada definitely isn't designed for big vehicles so I would recommend parking out of the city and getting the bus in instead if you don't want to spend all that money on parking anyway.
Tarifa
Tarifa is known as the home of wind sports and happens to be the most Southerly part of Mainland Europe. There are lots of lovely beaches around the town from kite and windsurfing hotspots like Playa de los Lances to the picture-perfect Bolonia. Tarifa old town looks like your typical white Andalusian town with it's winding streets and colourful decorations. It also has a really nice bohemian feel thanks to it's international wind/water sports community.
There is an interesting 10th century castle to check out and some of Andalusia's most important Roman ruins nearby for those that don't want to spend 100% of the time on the beach. When the waves allow you can also walk out to the Isla de Tarifa where the Mediterranean Sea meets the Atlantic Ocean.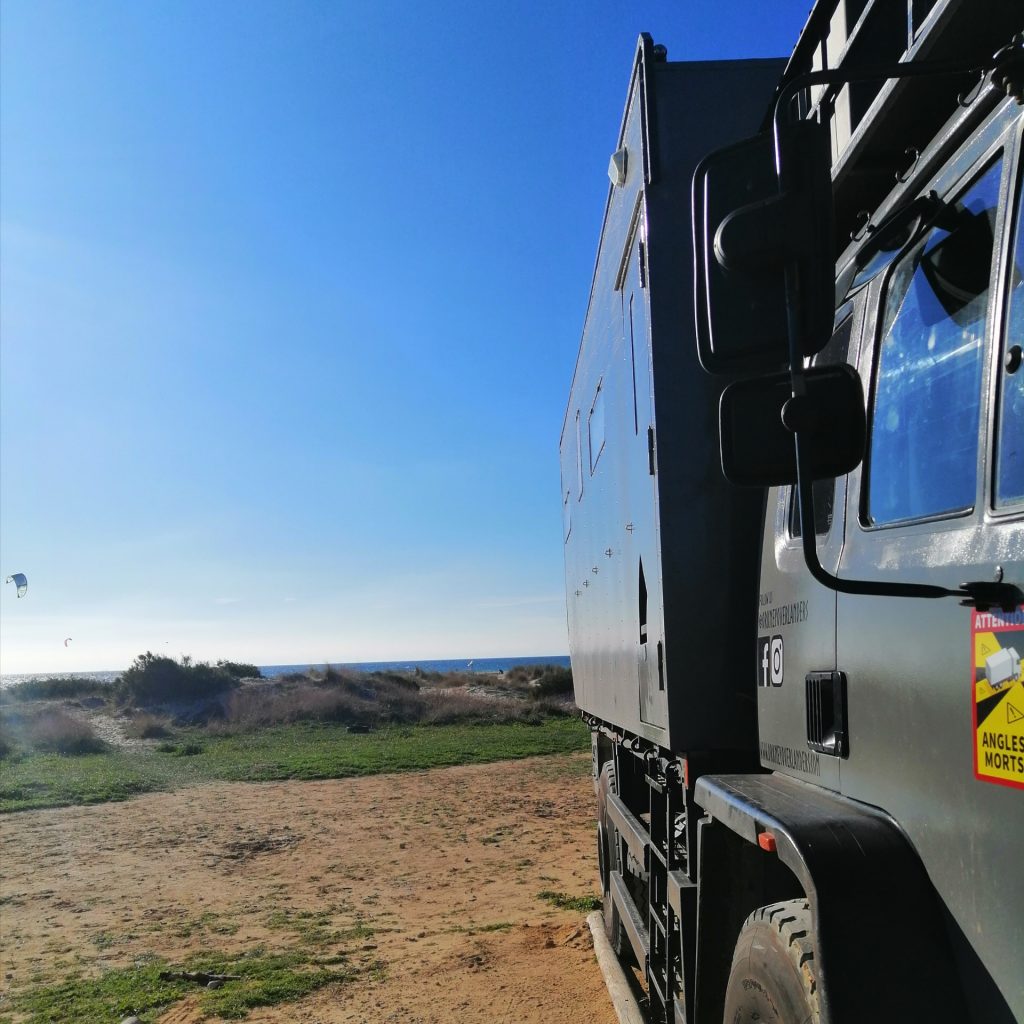 For parking, they allow you to park by the beach through the winter which we did along with plenty of other campervans by Playa de los Lances (36.0466782, -5.6396204) but through the summer this isn't allowed. There is a large space next to Lidl (36.0212584, -5.5989806) in the town itself that is also used and seems like it's acceptable throughout the year but I would double-check the apps for when you're thinking of visiting, just in case.
Final thoughts on overlanding in Andalusia
Overlanding in Andalusia gives you an amazing opportunity to explore the most remote regions of southern Spain. You can visit places that most tourists have never even heard of, let alone visited and experience real, authentic Spain.
I would say the best time to visit is in the quieter winter months. There are a lot more options for park-ups and the weather is more suited for exploring. While in the area between January and February it was usually between 15-20°C and I think it only rained once.
There are amazing roads and impressive scenery in every direction. Once you get away from the tourist resorts and the cities you can really appreciate the natural beauty and sheer size of the region.
Whether you like beaches, forests, mountains, or ancient cities there is something for everyone. I've only listed off a handful of places that you can discover if you decide to try overlanding in Andalusia – but one of the best things about the area is finding your own favourite places! I know we'll be back to explore even more.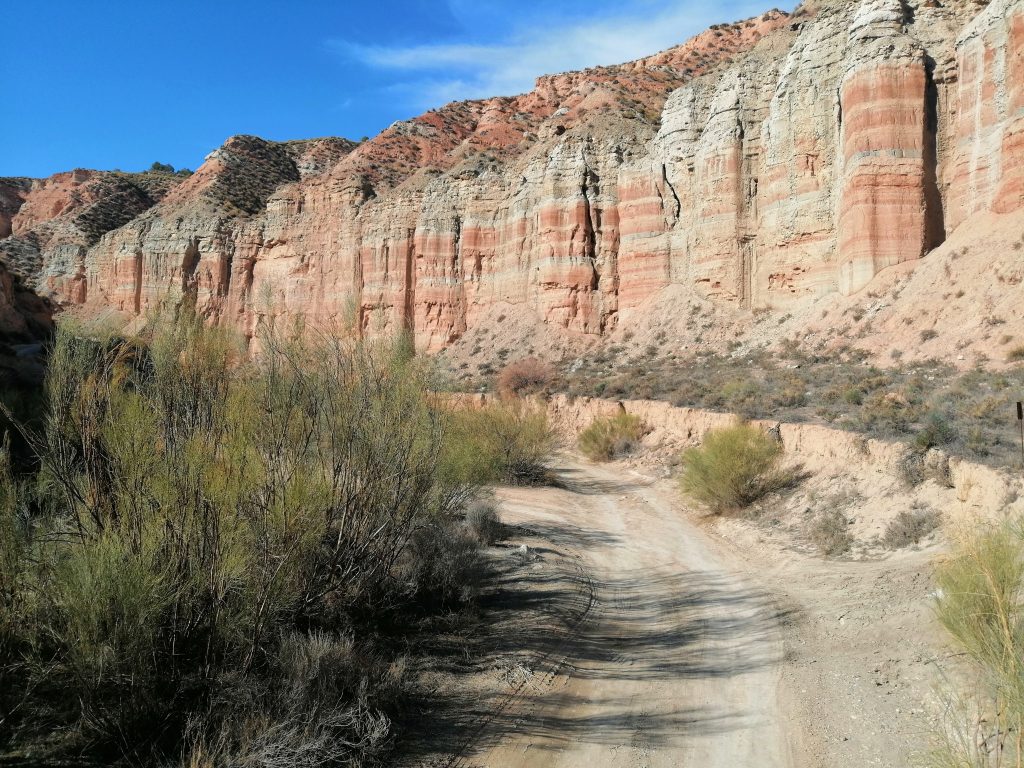 If you'd like to read more about overlanding in Spain check out our guide to the Basque country .