Overlanding in the Basque Country
The Basque Country, in the North-East corner of Spain is a beautiful region that often gets forgotten about. You might recognise one or two city names, but this region is also home to rugged coastlines, snowy mountains and villages that haven't changed in centuries. There are historic sites everywhere you look, and I haven't even mentioned all the amazing food yet! If you've never thought of overlanding in the Basque Country here are the top reasons why you should!
Spectacular scenery from mountains to coast and back again!
Historic sites – enough to keep you busy for as long as you like!
Proper traditional Basque and Spanish region – no tourist tat here!
Great roads to explore with hardly anyone on them!
Tasty local food and drink!
First things first!
Before I start with all the sites to see in the Basque Country, here are some things you should know.
The type of overlanding setup you have will obviously affect how you experience this secret corner of Spain. To be honest this place is almost perfect for motorbike overlanding. It's easy to change between the windy roads of the mountains, the narrow village streets, and the motorways. Plus its generally safe to pull off and find a quiet spot to pitch a tent. For us in our truck it's quite different but still amazing to do.
Driving
Firstly, the Spanish are way more optimistic about what their roads can handle compared to in the UK. We didn't find many roads that our 10tonne truck wasn't allowed on, and there were some windy, narrow roads! The only real exceptions were some roads going right into cities/towns, and bits of road where tourists are likely to mill about and potentially get squished if a giant truck came along. This optimism is great but it means you have to be much more aware of what your vehicle can handle.
Some of the roads we drove along were steep, only wide enough for us and maybe a Fiat 500, and had very little visibility – think Applecross but next level! Passing places aren't really a thing either, so go carefully, prepare to reverse, oh and mind the edge!
If you want a break from the rural roads the motorways are really well maintained and handy if you want to skip along to a different area. Just watch out for the odd toll road marked by 'peage'. We accidentally ended up on one and for the small section between two booths it cost us (in a truck) about €6.50!
Camping/parking
Different areas of Spain have their own bylaws for all kinds of things and the Basque Country is no different; but most seem to agree that you can usually stay overnight in your vehicles, but you cannot camp. Weird I know but I'll explain. If you are inside your vehicle cooking, sleeping, etc you are parking which is fine; if you pull out a chair, open a side window, or fire up the generator you are now camping – which is a no-no.
You can find places all over and some of the best spots and the ones you stumble across, but there are also hundreds of places marked on travel apps such as Park4Night and iOverlander so you shouldn't be stuck. In the summer some spots have height barriers so check the reviews if you're using the apps, but we had no issues in our 3m Overlanding truck in December.
As long as you're sensible and don't annoy the locals you should be fine!
Facilities
The Basque Country isn't quite as geared up with facilities as more popular regions but you can still find plenty of 'campervan areas' called 'Area de Autocaravanas'. They range from free to maybe €5, usually have fresh water, black and grey water disposal and bins and allow you not park (NOT CAMP) for between 1-3 days. There are also campsites in the summer if you prefer. If you need to do laundry just look for a 'lavanderia'; there are often cheap self-service ones in towns and occasionally in the 'campervan areas'.
Now on to the exciting bit!
Cities to visit when Overlanding in the Basque Country.
If you're anything like us you would normally avoid cities, but this can mean missing out on some of the best bits! But overlanding doesn't have to exclude these places. You can find a park-up in a nearby town and test the public transport, or try an inner-city 'campervan area'. Either way, these cities are definitely worth exploring:
San Sebastian (or Donastia in Basque). This popular tourist spot is most well-known for its food; in fact, it is often referred to as the 'greatest gastronomic destination in all of Spain'! It is most well-known for its pintxos, but more on those later. Tasty treats aside, San Sebastian is also home to the beautiful La Concha beach. This pristine beach is right in the city but has great views out across the bay and is a great spot to relax after a exploring the historic streets. The old town, as you would guess, has some impressive old buildings to wander around, including the Basilica de Santa Maria del Coro. The San Sebastian cathedral and city hall are both worth a look as well. Across the bay there is the Miramar Palace or you could hike up Mount Urgull for the best view of the city. There is a paid 'campervan area' (€4-7) at Paseo de Berio, 2, 20018, San Sebastian (43.30778, -2.01417) where you can park for 72hrs and walk or get the bus into the centre. Or you could find a spot in any of the neighbouring towns and get the bus in.
Vitoria-Gasteiz. This lesser-known city is actually the capital of the Basque Country. It has won award to it's environmental works and atmosphere, plus it has the best-preserved medieval centre in the region. Amongst the historic sites is the Santa Maria Cathedral. It's particularly interesting due to its composition of various towers and chapels with have been amalgamated into one great time-machine of a cathedral which you can explore from crypts to towers! Ticket prices vary but you can book before you arrive and collect and pay for your ticket on arrival. Other interesting sites include the ancient city walls and the museum of fine art which is housed in the Palace of Augustin. In the medieval quarter there is also an expanding mural trail displaying some lovely local art which you can follow. In keeping with the city's green status there are plenty of natural areas to enjoy. There are numerous parks and a green belt right around the city with parks, wetlands, cycle lanes, and more. There is free motorhome parking with facilities right in the city at Portal de Foronda, 48, Vitoria-Gasteiz (42.86667, -2.68528) where you can stay for 72hours. The city's tourism group also have a section of their website specifically for visiting with motorhomes that would be worth checking out for more great tips.
Bilbao. This industrial port city might not seem impressive but it has a lot going on! For history there's the old town (Casco Viejo) with it's 7 Streets full of traditional shop fronts, churches and ornate stone carvings. If you're more interested in modern architecture you can't beat the Guggenheim Museum with its varied exhibits, bizarre appearance, and giant floral puppy! Bilboa is also home to a bridge that might look familiar to anyone from the North-East of England, or anyone that watched 'that' episode of Auf Wiedersehen Pet… The Vizcaya bridge is an impressive transporter bridge with a gondola shuttling traffic across the river from Portugalete to Getxo. It's something to see if you have any interest in engineering. If that's not enough, there's also plenty of 'outdoor stuff' too. Whether you want to take a ride on the Artxanda Cable Car for a birds-eye view of the city, or fancy learning how to surf on one of Bilbao's beaches, you're not stuck for something to do. Bilbao's handy metro system means you have a lot more park-up options. I'd recommend the 'campervan area' in Sopelana at Gatzarriñe Kalea, 26D, 48600 Sopela, Bizkaia (43.373595, -2.990136).
Natural sites to visit while overlanding in the Basque Country.
Aiako Harria Natural Park (Pañas de Aya in Spanish). This beautiful section of the Pyrenees is just south of the Irun border crossing and is the first place we went on our most recent trip to Spain. The area is scattered with prehistoric stone circles, roman mines, and more recent fortifications. The countryside itself is spectacular and perfect for walking, stargazing or pretty much anything outdoors. We got to watch a meteor show from a beautiful park-up in here! The steep mountain roads can be a challenge as mentioned earlier but it's 100% worth it. We were there in December and as the crisp mornings gave way to the warm and sunny afternoons, we listened to the horses and cows jingling their bells as they wandered the hillside – it was basically perfect. For parking there are loads of little carparks and laybys on the sides of the quiet roads. We parked by the Lapuriturri information point (43.305176, -1.756423) and had great views and some lovely walks.
Oñati-Arrikrutz cave. If you're interested in rocks and prehistoric animals this is somewhere you should visit. This is one of the most extensive cave systems in the area and home to a number of important discoveries. Not only have they found fossil-remains of species like the Woolly rhinoceros and cave bears but they also discovered a complete skeleton of a Eurasian Cave lion – the first in Spain! While only a one of the underground caverns is currently open to the public it's still stunning and as you're guided along the river and through the history of the place it definitely leaves you with a lot to think about. The tour costs €8 and is available in English. There's parking a little distance from the cave and (season-dependant) you may be able to park in the bus spaces. The local town of Oñati deserves a visit too if you have time. The imposing Sanctuary of Arantzazu and the 16th century University of Oñati (one of the oldest university buildings on the Iberian Peninsula) are definitely worth seeing.
The Flysch of Zumaia. Now this one will be even more interesting for the rock-lovers amongst you, but I think its impressive regardless. This UNSECO geopark contains a rock formation that shows the Earth's history spanning over 60million years! The layers of rock that you would normally find stacked on top of each other have basically been pushed over by tectonic plate movement and are now lying on their side on the Basque Coast. As the layers are all made up of different combinations of rock they have worn at different levels creating an impressive jagged coastline while telling a tale spanning millennia. There are some small parking areas between Deba and Zumaia but if you can, get to the parking Area Descanso Elorriga (43.288203, -2.286704). It's free and can get a good view with a route down to the beach to explore the rocks.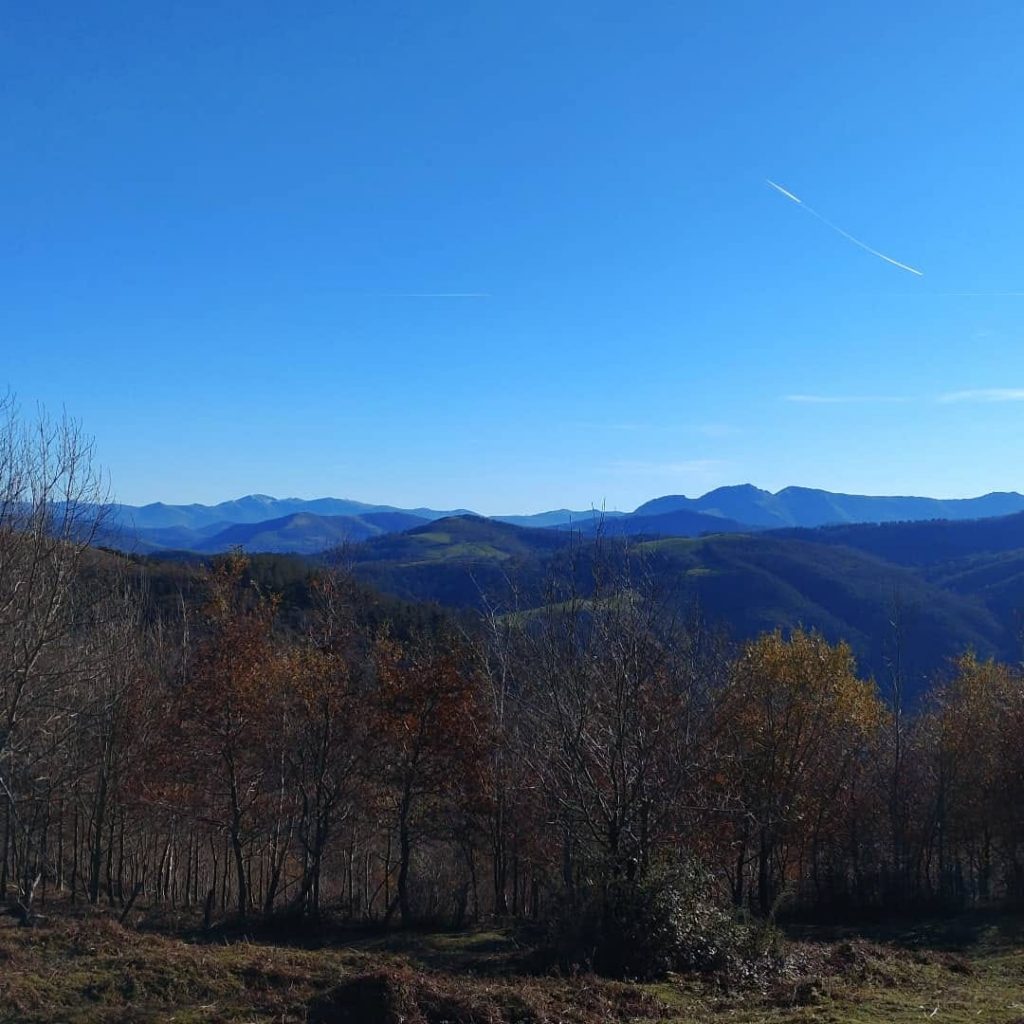 Other sites of interest while overlanding in the Basque Country.
San Juan de Gaztelugatxe. Ok so if you can pronounce this one right first time you've earned a gold star! This site is probably one of the most spectacular in the whole region. Perched on a small rocky island off the coast this ancient hermitage was originally built by the Knight's Templar. The only way to access it is by an old bridge and the flights of steps zigzagging up the rock-face. Due to a landslide the island is currently off-limits but I really think you should still visit for the view. There is a viewpoint 'mirador' on the main road (43.440765, -2.770716) about 1km east of the roadside carpark. The only carpark that allows campervans (43.439198, -2.783429) can get busy and there might not be room for you, so the viewpoint is a good choice.
Castillo de Butrón. This is a weird one but if you're in the area anyway you should go and visit this peculiar castle, well, peculiar for the Basque Country anyway. Butron castle is like a gothic fairy-tale castle that would look more at home in Bavaria! It started as a traditional, medieval castle but was almost totally rebuilt to it's current form in the 1800's. Unfortunately, this is another one you can't currently go into, but you can wander the unusual exterior and ancient forests which are free and seriously atmospheric! There is a parking area for the castle on the side of the road (43.370854, -2.912802).
The Basque Museum. This one is actually in Bilbao but since it's the place to go to learn all about the culture and history of the Basque Country I thought it deserved its own slot. You can learn all about their traditional methods of farming, fishing, weaving and much more. Considering the Basques are one of the oldest ethnic groups in Europe there's a lot to learn. Tickets are only €3. For parking check out the options for Bilbao.
The food!
I did say I would come back to 'pintxos' so here we go. Pintxos are basically Basque tapas. Traditionally it was a piece of bread with a topping that was used to cover your drink and keep the flies out! It has branched out from there to generally include other typical tapas/snacks. The best way to enjoy pintxos is to have one drink and one pintxo in a bar, then move on to a different one. If you can ask for the 'house specialty' you know the food will be amazing, but even picking at random it's a great way to try out different local food and experience the culture of the area. Just make sure you're parked up and settled in, otherwise, someone is going to have to stick to the juice!
Some classics to look for are 'La Gilda' (pickled anchovies, olives and pepper all on a toothpick to be eaten in one go); 'Rabas' (deep-fried squid); and of course the traditional Pintxo (crusty bread with a topping). The typical Pintxo could have 'Tortilla' (Spanish omelette), 'Bacalao' (salted cod), or pretty much anything else. You can often see the bread-based Pintxos so you could just point to one that looks good and give it a go! Wash your snack down with a small wine or beer and move on to the next bar – simple!
Oh, and if you get a chance to try the Basque drink Kalimotxo do it! It's half red wine, half cola, and poured over plenty of ice. Sounds weird I know but trust me on this – it tastes great and is refreshing after a day exploring.
So…
If you'd never considered overlanding in the Basque Country I hope you have now! It's an easily accessible area with the Irun French border crossing and ferrying going to Bilbao or nearby Santander. The beautiful scenery, empty roads and interesting sites could keep you busy for as long as you'd like. This often-missed region has so much going for it – I know we'll be back to explore further! The question is will we see you there??
Let us know if you've ever visited the Basque Country! Or do you want to visit now?
To read some of our travel tips from closer to home check out our 'Alternatives to the NC500 post here!
To see our other 'travel' posts click here