Alternatives to the NC500
The NC500 is probably the most well-known driving route in the UK right now, and with good reason! It's a road trip that gives you everything you could want. There are stunning beaches, quaint villages, ancient castles, and mountain passes fit for the adventures of hobbits. The issue is – especially with staycations taking off this year – everyone wants to drive the NC500. Campsites are booked up, the roads can get busy, and some say you're as likely to bump into your next-door neighbour as you are a friendly Highland Coo. But where could you go instead?! Are there any good alternatives to the NC500?
Well, if you're still keen to head for the Highlands or explore somewhere new in Scotland here are a few great options that are just as special.
The Southwest 300 (300miles)
The SW300 is the NC500's lesser-known sibling. It's a circular driving route that takes you from Lockerbie, along the Dumfries and Galloway coastline and up to Ayr before winding back through empty roads and rolling hills back to Lockerbie. This route surrounds some amazing landscapes and is easily accessible from the M74. You could spend as long as you like exploring this often-forgotten region – with extensive forests, peaceful fishing villages and as much of the Great Outdoors as you like! Here are some of the best things for you to check out on this NC500 alternative:
The beaches: There are so many pretty beaches on this route it would be hard to pick a favourite. From the wide, sandy expanse of Monreith's beaches to the shingle bay of Dunure Beach near Ayr this area is hard to beat. Many of these beaches have reasonable parking and facilities nearby.
Culzean Castle and Country Park: A huge Ayrshire estate with everything from forests and beaches to shops and adventure playgrounds – and then there's the castle itself! You could easily spend the whole day here with the family. There's plenty of parking and a campsite on site!
Galloway Forest Park: Technically so you need to come inside the SW300 route for this one but it's worth the detour! With masses of wildlife, great walks, and some of the best stargazing in Europe the Galloway Forest Park is a real favourite! There is plenty of parking around the forests as well as some useful visitor centers.
The Fife Coastal Route (77miles)
If you only have time for a short adventure the Fife Coastal route is a great alternative to the NC500. This route begins at Kincardine Bridge and finishes at the Tay Bridge – so you can't miss it! Pottering along the Fife coast this route explores Scotland's fishing heritage as well as some unexpected treats! Stuart would also like to inform you that the best Calzone anywhere, ever, can be found in Burntisland so it might be worth the visit just for that! Here are a couple of suggestions of what to see:
Royal Burgh of Culross: This small town makes you feel like you've stepped back in time – or wandered onto the set of Outlander. The later wouldn't be surprising as there are a few spots here that were used for filming the TV series! The uniquely yellow 16th Century palace and its gardens have passageways and gardens to explore while the cobbled streets and old port help make it one of Scotland's most complete 17th-18th century towns. There is a decent-sized carpark on the edge of the town.
Beaches: I don't think you can go near the Scottish coast without visiting the beach at least once! As you'd expect there are loads to choose from! Whether you prefer a place for wildlife and rock-pooling like Elie Ruby Bay, or a sandy beach right by the town centre like St Andrews West Sands – it's up to you! Most beaches in this area have good parking and facilities nearby.
Caves: There are some interesting caves scattered along the Fife coast. We stumbled across some on our last visit, and it left us wanting more. Wemyss Caves are just a few files from Kirkcaldy and contain the largest collection of in-situ Pictish carvings anywhere! You can explore the caves yourself and hunt for the carved-out animals and boats, or take a guided tour. Either way, you should bring a torch – we forgot ours initially but luckily the car park isn't far away!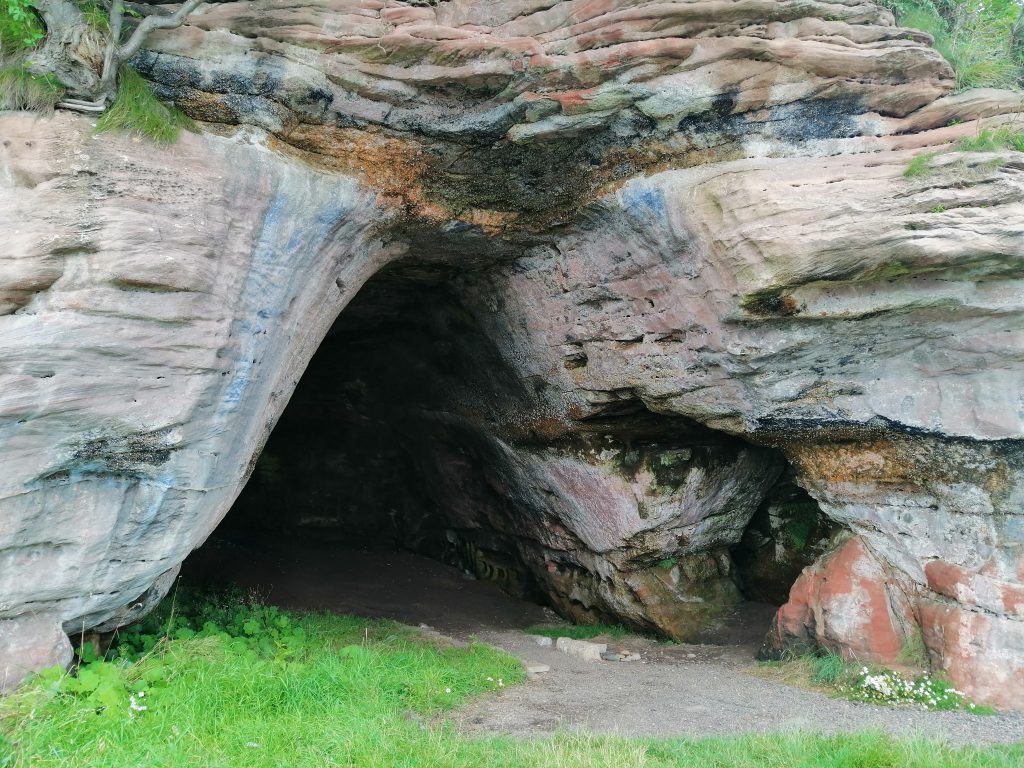 The Northeast 250 (250miles)
Some more originality might be needed with these names, but there's plenty of unique things to see on this alternative to the NC500. The NE250 begins in Glenshee you drive through the heart of the Cairngorm National Park, before heading up to and along the Moray Firth then down the Aberdeenshire coastline. As with all circular routes, you could start anywhere and Aberdeen is another popular choice. Depending on how much you want to see you could easily spend a week driving this route. It's absolutely packed with castles (including Balmoral), impressive landscapes and things to do. Here are some of our favourite suggestions:
Distilleries: So, I guess I couldn't write a piece on Scottish road trips without mentioning whisky at least once! There are so many distilleries to visit from Glenlivet to Glenfarclas – take your pick. Just make sure your driver isn't a whisky fan or find a park-up within walking distance if you intend to partake in samples!
Bow Fiddle Rock: if you're looking for a 'picture perfect location' this one might just be a winner! Off the coast of Portknockie this impressive rock formation, carved into the shape of a bow, has been naturally shaped by the North Sea waves. This is a great little stop off and there is parking nearby.
Wildlife: The Moray coast is well known for its impressive array of wildlife which includes a population of bottlenose dolphins! You might even get to see killer whales and harbour porpoises amongst other things! This might be the perfect time to swap the roads for water and go on a boat trip! You might also get to see otters, ospreys, or the odd red kite!
The Argyll Coastal Route (129miles)
The Argyll Coastal Route is without a doubt one of the prettiest road trips in Scotland! As an alternative to the NC500 it ticks all the boxes, with rugged mountains, stunning shorelines, and impressive history. Beginning on the banks of Loch Lomond and meandering up the coastline to just south of Fort William I would gladly turn around at the end and do the whole thing again in reverse! Here are some of the must-see sights on this NC500 alternative:
McCaig's Tower: Perched above the bustling town of Oban this interesting 'tower' was built as a family monument and to provide work for local stonemasons. The views out to Scotland's Atlantic Islands are definitely worth the walk up the hill; there is parking at the monument but we don't recommend trying to access it with a large vehicle. You should also explore Oban itself, especially if you like seafood as it's the Seafood capital of Scotland!
Kilmartin Glen: This valley is jam-packed with history. Whether you're interested in standing stones, burial chambers, or castles there are over 350 historic monuments to choose between! If you wanted to go to one place and see as much Scottish history as possible this is the place. There are parking areas scattered around the Glen and there's even a museum with a café in Kilmartin village.
Islands: There are lots of islands, big and small, to explore just off the Argyll coastal route. You can catch a ferry to the incredible island of Mull (where you could easily spend a few extra days exploring) or take a trip with one of the many boat tour companies for a chance to see some wildlife, explore small islands, and view the Argyll shores from a different angle.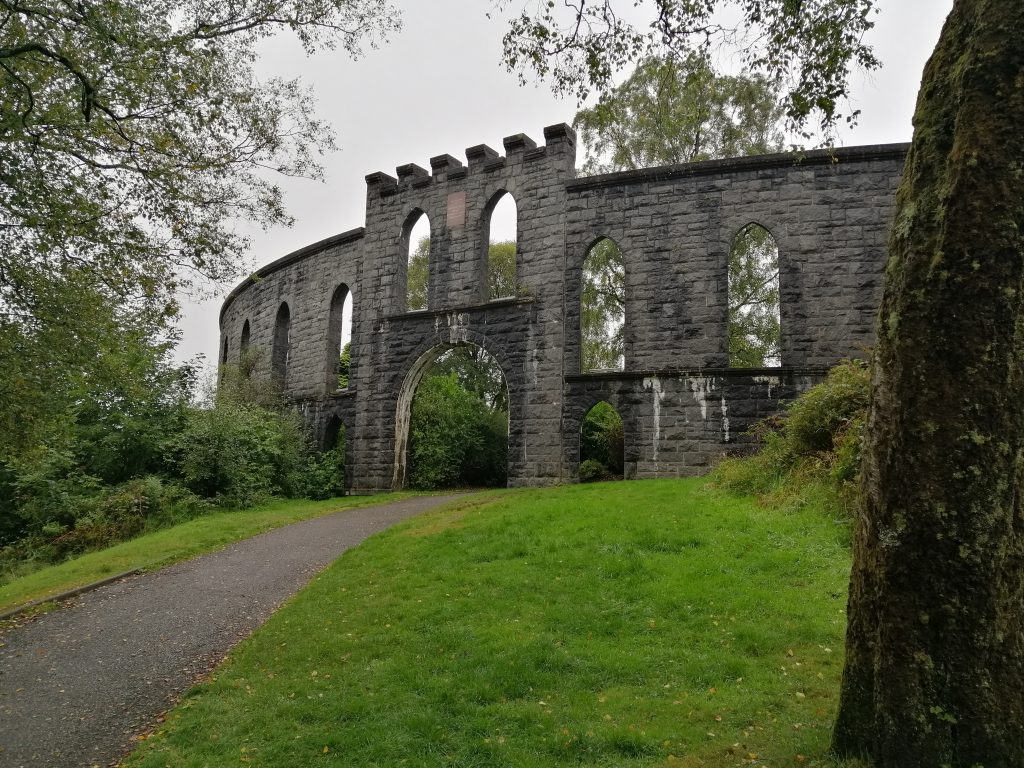 The Coig (295miles)
The Coig is actually a set of five mini routes that are perfect for you to pick and choose from depending on how long you've got and what you're interested in. You could do each section separately or spend a week or two ticking them off. The routes cover Ayrshire, Renfrewshire and the islands of Arran, Bute and the Cumbrae. As with most of Scotland the region is packed full of history, nature and interesting sites, making it a great alternative to the NC500. Here's a taster of what the Coig has to offer:
Kelburn Castle and estate: This colourful, graffiti-covered castle near Largs has enough to keep you entertained for a whole day. With a maze, adventure courses, a fairy tale grotto and a magical woodland with some interesting creatures dotted around there's something for everyone. If you fancy walking up the glen you can look out across the Clyde Firth for some impressive views. There is paid parking onsite.
Crocodile Rock: While this area really is teaming with wildlife one thing Scotland obviously doesn't have is Crocodiles… But on the island of Cumbrae they've decided to make their own! The Millport Crocodile is a naturally-shaped rock that was customised about a 100 years ago with some paint. Since then, it's become a local landmark and the paint job is freshened up regularly! There is shorefront parking on the roadside.
Ettrick Bay: On the west coast of Bute this wide sandy beach could be the perfect place for some downtime. Whether you fancy going for a paddle or would rather sit and watch the birdlife this is a beautiful beach. There is parking and toilets on-site and a Bronze Age stone circle not far from the beach.
Roundup
Now I know the NC500 has much better marketing than any of these driving routes and it is an impressive adventure – there's no denying that! Stuart and I have both been around that route a number of times and it is jaw dropping. But there are so many other options! Personally, I think we'd be as likely to head for the SW300 or the Argyll Coastal route as alternatives to the NC500.
If you've done any of these routes do comment below and tell us your favourite moments. Or if you're now considering heading somewhere a little quieter than the North Coast let us know!
If you Scottish road-tripping takes you as far as Aberdeen or Caithness you should hop on the ferry and head to Orkney – here's our guide to visiting the islands we call home.
If you'd rather read about our travels further afield check out our guide to Overlanding in the Spanish Basque country here!